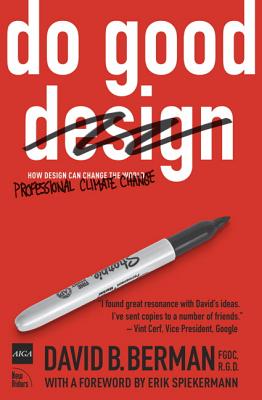 Do Good Design
How Designers Can Change the World
Paperback

* Individual store prices may vary.
Description
How Design CAN CHANGE the World
Today, everyone is a designer.And the future of civilization is our common design project. How does design help choose our leaders?
Why do we"really"have an environmental crisis?
How can accessible design broaden your audience?
Why does the U.S. economy now struggle to compete?
How has design thinking added to the bottom line of the world's most valuable companies?
Design matters. As it never has before. Design creates so much of what we see, what we use, and what we experience. In a time of unprecedented environmental, social, and economic crises, designers must now choose what their young profession will be about: deploying weapons of mass deception or helping repair the world.
"Do Good Design"is a call to action:
This book alerts us to the role design plays in persuading global audiences to fulfill invented needs. The book then outlines a sustainable approach to both the practice and the consumption of design. All professionals will be inspired by the message of how we can feel better and do better while holding onto our principles.
In a time when anything has become possible, design thinking offers a way forward for us all. What will you do?

New Riders Publishing, 9780321573209, 180pp.
Publication Date: September 1, 2008
About the Author
David B. Berman is a strategic consultant with 30 years experience in universal design thinking. He has traveled to over 50 countries, as an expert speaker, high-level advisor to the U.N., Ethics Chair for graphic design in Canada, chair for accessible technology at Carleton University, and a vice president of Icograda, the world body for graphic design. Clients include IBM, the international Space Station, Sierra Club, and Canada's three largest federal government departments.

"
or
Not Currently Available for Direct Purchase