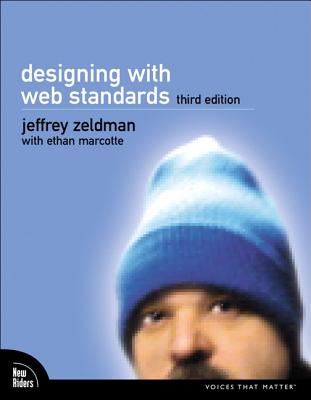 Designing with Web Standards
Paperback

* Individual store prices may vary.
Description
Best-selling author, designer, and web standards evangelist Jeffrey Zeldman has revisited his classic, industry-shaking guidebook. Updated in collaboration with co-author Ethan Marcotte, this third edition covers improvements and challenges in the changing environment of standards-based design.
Written in the same engaging and witty style, making even the most complex information easy to digest, Designing with Web Standards remains your essential guide to creating sites that load faster, reach more users, and cost less to design and maintain.
Substantially revised packed with new ideas How will HTML5, CSS3, and web fonts change your work? Learn new strategies for selling standards Change what IE6 support means Occasionally (very occasionally) you come across an author who makes you think, This guy is smart And he makes me feel smarter, because now I finally understand this concept. Steve Krug, author of Don t Make Me Think and Rocket Surgery Made Easy
A web designer without a copy of Designing with Web Standards is like a carpenter without a level. With this third edition, Zeldman continues to be the voice of clarity; explaining the complex in plain English for the rest of us. Dan Cederholm, author, Bulletproof Web Design and Handcrafted CSS
Jeffrey Zeldman sits somewhere between guru and god in this industry and manages to fold wisdom and wit into a tale about WHAT web standards are, HOW standards-based coding works, and WHY we should care. Kelly Goto, author, Web ReDesign 2.0: Workflow that Works
Some books are meant to be read. Designing with Web Standards is even more: intended to be highlighted, dogeared, bookmarked, shared, passed around, and evangelized, it goes beyond reading to revolution. Liz Danzico, Chair, MFA Interaction Design, School of Visual Arts

New Riders Publishing, 9780321616951, 411pp.
Publication Date: October 1, 2009
About the Author
Dubbed King of Web Standards by Business Week, Jeffrey Zeldman (zeldman.com) was one of the web s first designers and bloggers. He publishes A List Apart for people who make websites; runs Happy Cog, a leading web design studio; and co-founded An Event Apart, The Deck, and The Web Standards Project.

Versatile user experience designer/developer Ethan Marcotte served as a steering committee member of The Web Standards Project, and has worked with clients including New York Magazine, Harvard University, and the World Wide Web Consortium (W3C). Books to which he has contributed include Handcrafted CSS, Web Standards Creativity, and Professional CSS. Ethan writes and does technical editing at A List Apart, and is a popular educator and conference speaker. He would like to be an unstoppable robot ninja when he grows up (unstoppablerobotninja.com).

"
or
Not Currently Available for Direct Purchase