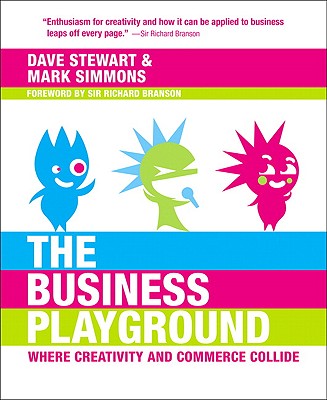 The Business Playground: Where Creativity and Commerce Collide (Paperback)
Where Creativity and Commerce Collide
New Riders Publishing, 9780321720580, 244pp.
Publication Date: July 23, 2010
* Individual store prices may vary.
or
Not Currently Available for Direct Purchase
Description
The Business Playground is "the" definitive guide to creativity and innovation
Written by musician/entrepreneur Dave Stewart and branding expert Mark Simmons, "The Business Playground" offers a revealing look at what creativity is and how to apply it in business through an inspiring mix of scientific studies, anecdotes, high-profile interviews, and thought-provoking games that you can play alone or with your co-workers.
"The Business Playground" is not your average business book. Former Eurythmics band member Dave Stewart turns on his rock and roll charm with personal, inspirational stories from his own career as well as interviews with such innovative and influential thinkers as Mick Jagger, Microsoft's Paul Allen, and Twitter's Evan Williams. The legendary Sir Richard Branson makes a guest appearance as the author of the book's foreword where he sets the tone for this quirky, fun, emminently useful guide to creative business thinking.
Whether you re running a one-man show or heading up a multinational corporation, you ll discover new techniques for finding and harnessing your creative abilities and putting them to work for your business in this entertaining book.
"The Business Playground" includes real-world examples of innovation in action, as well as substantial and practical techniques that you can use immediately to aid in creative thinking and problem solving. Play the games at the end of each chapter and you ll learn how to:
Ask the right questions so you can find the right answers Rediscover, train, and utilize your innate creative abilities Conduct the perfect brainstorm yes, such a thing really does exist Create a work culture that's conducive to creativity Help people collaborate with others within and outside of the organization Kill ideas that aren t working before they waste too much time and too many resources In his foreword Sir Richard Branson says, Dave and Mark's enthusiasm for creativity and how it can be applied in business leaps off every page. "The Business Playground" will bring out the creative child inside all of us and I can t imagine many readers being left uninspired to try it out for themselves. Their mix of insights about creativity, revealing examples, anecdotes, interviews with creative thinkers, and games make for an entertaining and informative read. If you get half as much out of this book as I did, you re in for quite a treat.
Join in the fun with the "Business Playground" Facebook community at: www.facebook.com/businessplayground

About the Author
Dave Stewart is founder and chairman of Weapons of Mass Entertainment, an idea factory described by the "LA Times "as 'a media company for the new world . A multimedia entrepreneur, his career spans more than 25 years and over 100 million album sales. As well as being one half of Eurythmics with Annie Lennox, Stewart has worked with some of the best including Bono, Mick Jagger, Gwen Stefani, Sinead O Connor, Tom Petty and Bob Dylan, winning best songwriter and best producer 4 times as well as numerous Grammy and Life Time Achievement Awards. Described by Dylan as a fearless innovator, Stewart was recently named one of the 100 Most Creative People in Business by "Fast Company Magazine." Stewart is an acclaimed public speaker and regularly advises businesses on creativity and innovation. He is a key advisor to mobile phone giant Nokia, where he has the unique title of change agent, and has created a number of game-changing ventures in the entertainment industry. Stewart is an accomplished photographer and filmmaker, and also makes a mean vodka martini.

Mark Simmons is a branding expert, innovator and the co-author of "Punk Marketing: Get Off Your Ass and Join the Revolution." Over the past twenty years he has been a senior global marketer at Coca-Cola, run advertising agencies in the UK and US, been an adviser to the Bill & Melinda Gates Foundation and Al Gore s Alliance for Climate Protection, and is the co-founder of useless.org, a social enterprise dedicated to helping people use less and give more. Mark frequently speaks at conferences about creativity, marketing and branding. He passionately believes in the power of ideas to make a positive difference in business and society and works with organizations around the world to put this into practice. Follow Mark on Twitter: @markjcsimmons.

"
Advertisement