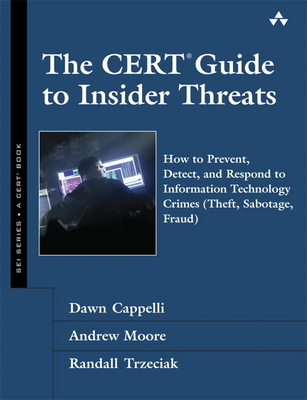 The CERT Guide to Insider Threats (Hardcover)
How to Prevent, Detect, and Respond to Information Technology Crimes (Theft, Sabotage, Fraud) (SEI Series in Software Engineering)
Addison-Wesley Professional, 9780321812575, 389pp.
Publication Date: February 3, 2012
* Individual store prices may vary.
Description
Since 2001, the CERT(R) Insider Threat Center at Carnegie Mellon University's Software Engineering Institute (SEI) has collected and analyzed information about more than seven hundred insider cyber crimes, ranging from national security espionage to theft of trade secrets.
The CERT(R) Guide to Insider Threats
describes CERT's findings in practical terms, offering specific guidance and countermeasures that can be immediately applied by executives, managers, security officers, and operational staff within any private, government, or military organization. The authors systematically address attacks by all types of malicious insiders, including current and former employees, contractors, business partners, outsourcers, and even cloud-computing vendors. They cover all major types of insider cyber crime: IT sabotage, intellectual property theft, and fraud. For each, they present a crime profile describing how the crime tends to evolve over time, as well as motivations, attack methods, organizational issues, and precursor warnings that could have helped the organization prevent the incident or detect it earlier. Beyond identifying crucial patterns of suspicious behavior, the authors present concrete defensive measures for protecting both systems and data. This book also conveys the big picture of the insider threat problem over time: the complex interactions and unintended consequences of existing policies, practices, technology, insider mindsets, and organizational culture. Most important, it offers actionable recommendations for the entire organization, from executive management and board members to IT, data owners, HR, and legal departments. With this book, you will find out how to
Identify hidden signs of insider IT sabotage, theft of sensitive information, and fraud
Recognize insider threats throughout the software development life cycle
Use advanced threat controls to resist attacks by both technical and nontechnical insiders
Increase the effectiveness of existing technical security tools by enhancing rules, configurations, and associated business processes
Prepare for unusual insider attacks, including attacks linked to organized crime or the Internet underground
By implementing this book's security practices, you will be incorporating protection mechanisms designed to resist the vast majority of malicious insider attacks.
About the Author
Dawn Cappelli, CISSP, is Technical Manager of the CERT Insider Threat Center and the Enterprise Threat and Vulnerability Management Team at Carnegie Mellon University's Software Engineering Institute (SEI). She has spent the past decade working with organizations such as the U.S. Secret Service and Department of Homeland Security in protecting the United States against insider threats. Andrew Moore is Lead Researcher in the CERT Insider Threat Center and Senior Member of Technical Staff at SEI. Randall Trzeciak is a Senior Member of Technical Staff at SEI, and Technical Team Lead for the Insider Threat Research Group at the CERT Insider Threat Center.