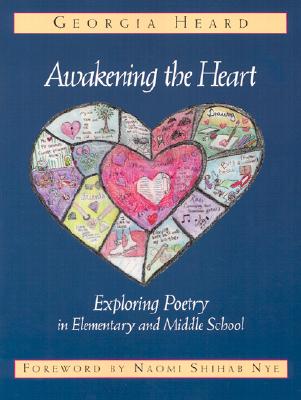 Awakening the Heart
Exploring Poetry in Elementary and Middle School
Paperback

* Individual store prices may vary.
Description
Fans of the best-selling For the Good of the Earth and Sun will applaud this sequel by beloved author Georgia Heardan inspiring and practical handbook that celebrates the natural power of poetry to teach the essential tools of all writing.
Awakening the Heart explores how to cultivate the poet in every elementary and middle school studentthrough well-drawn examples, detailed exercises, creative projects, and down-to-earth classroom teachings. Along the way, we learn how to: create environments that encourage children to express their innate sense of wonder; introduce poetry that will engage them; and help children make the transition from reading and talking to writing.
Best of all, Awakening the Heart is filled with luminous poemsby children, famous poets, and Heard herself.
Heinemann Educational Books, 9780325000930, 160pp.
Publication Date: November 2, 1998
About the Author
As a writer, a poet, and a founding member of the Teachers College Reading and Writing Project, Georgia Heard continues to bring a poet's ear and a teacher's know-how to every aspect of writing instruction. Her newest book, Heart Maps, provides 20 unique, multi-genre heart maps to help students write with purpose and authenticity. A heart mapping pioneer, Georgia has spent decades guiding students into more meaningful writing experiences by using heart maps to explore what we all hold inside: feelings, passions, vulnerabilities, and wonderings. Listen to Georgia talk about heart mapping on The Heinemann Podcast and explore the Heart Maps Facebook group: www.facebook.com/groups/heartmaps. Georgia is the author of The Revision Toolbox, Second Edition, Finding the Heart of Nonfiction, and Writing Toward Home, along with Awakening the Heart - which Instructor Magazine called one of its 12 Books Every Teacher Should Read. She is also the coauthor of Climb Inside a Poem, a curricular resource focused on how reading and writing poetry help teachers develop young students' language and literacy throughout the year. At the Teachers College Reading and Writing Project Georgia worked for seven years as Senior Staff Developer in New York City schools. Today she travels the U.S. and the world as a consultant, visiting author, and keynote speaker in school districts and conferences. In addition to her Heinemann professional books, Georgia is the coauthor of the professional titles Poetry Lessons to Meet the Common Core Standards and A Place for Wonder, as well as children's literature such as Falling Down the Page: A Book of List Poems. Follow her on Twitter: @GeorgiaHeard1 Visit her website: GeorgiaHeard.com Listen to Georgia's TEDx talk on heart mapping: Mapping Your Heart