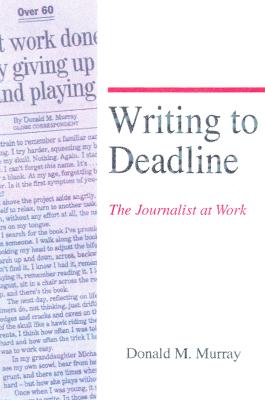 Writing to Deadline (Paperback)
The Journalist at Work
Heinemann Educational Books, 9780325002255, 218pp.
Publication Date: April 20, 2000
* Individual store prices may vary.
Description
Writing to Deadline takes the reader into the mind of the nonfiction writer, demystifying the process by which journalists clarify confusion and present significant information under demanding restrictions of time and space. This is an essential book for working journalists, professors and students of journalism, directors of newspaper inservice writing programs, and anyone who wants to learn more about:
the news-writing process
reporting and writing for surprise
focusing your story
draft writing
editing and fine-tuning
case studies of real journalists at work.
Combining his knowledge as a composition researcher and theorist with his practical experience as a teacher and journalist, Donald Murray both explains and demonstrates the writing process as he allows the reader to look over his shoulder - and the shoulders of other journalists - as they practice the craft of the immediate.