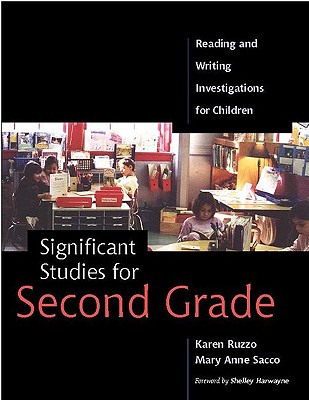 Significant Studies for Second Grade (Paperback)
Reading and Writing Investigations for Children
Heinemann Educational Books, 9780325005126, 264pp.
Publication Date: February 11, 2004
* Individual store prices may vary.
Description
Teach reading and writing to second graders thoroughly, efficiently, and effectively with this detailed, practical handbook.
Karen Ruzzo and Mary Anne Sacco of the Manhattan New School provide a full-year curriculum with units centered around "significant studies." These five-to-seven week courses of study or investigations, with many samples of student work, focus on four specific topics:
dialogue
writing about setting
nonfiction
content-area research and writing.
The authors fill their book with goals, minilessons, literature needed, and student work plans for each week of each investigation. All of the investigations follow a workshop format consisting of 10-20 minute minilessons, student work time of 30-45 minutes, and a 5-10 minute share time. As an additional feature, the end of each investigation includes commentary from a first-year teacher about how she adapts the investigations to fit the needs of her classroom.
Significant Studies invites you to enter a second grade classroom at the Manhattan New School and journey as learners alongside the students. This book will support teachers as they reflect on their practice and plan for thoughtful and explicit instruction.
About the Author
Karen Ruzzo is principal of the Manhattan New School, where she spent much of her career teaching second grade. She has also worked across the grades as a staff developer and as the Coordinator of Elementary Literacy Professional Development in New York City's District Two. She has presented at many workshops across the country in the area of literacy instruction. Mary Anne Sacco teaches second grade at the Manhattan New School and was a staff developer in New York City's District Two. Her teaching experience over the last decade ranges from kindergarten through fourth grade. She has been a presenter at various conferences and conducted workshops in literacy instruction across the United States.
or
Not Currently Available for Direct Purchase