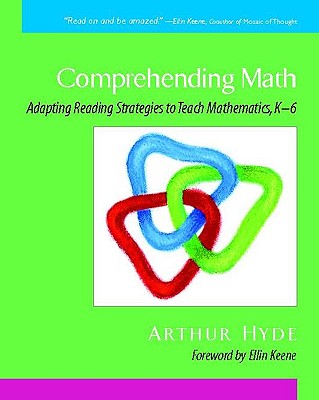 Comprehending Math (Paperback)
Adapting Reading Strategies to Teach Mathematics, K-6
Heinemann Educational Books, 9780325009490, 200pp.
Publication Date: September 15, 2006
* Individual store prices may vary.
Description
For those who devour
Comprehending Math
as I did, their teaching will be clearer, bolder, more connected. And for the ultimate beneficiaries, they will have a chance to understand just how integrally our world is connected.
Ellin Oliver Keene, author of
Mosaic of Thought
No matter the content area, students need to develop clear ways of thinking about and understanding what they learn. But this kind of conceptual thinking seems more difficult in math than in language arts and social studies. Fortunately we now know how to help kids understand more about mathematics than ever before, and in Comprehending Math you'll find out that much of math's conceptual difficulty can be alleviated by adapting what we have learned from research on language and cognition.
In Comprehending Math Arthur Hyde (coauthor of the popular Best Practice) shows you how to adapt some of your favorite and most effective reading comprehension strategies to help your students with important mathematical concepts. Emphasizing problem solving, Hyde and his colleagues demonstrate how to build into your practice math-based variations of:
K - W - L
visualizing
asking questions
inferring
predicting
making connections
determining importance
synthesizing
He then presents a practical way to "braid" together reading comprehension, math problemsolving, and thinking to improve math teaching and learning. Elaborating on this braided model of approach to problem solving, he shows how it can support planning as well as instruction.
Comprehending Math is based on current cognitive research and features more than three dozen examples that range from traditional story problems to open-ended or extended-response problems and mathematical tasks. It gives you step-by-step ideas for instruction and smart, specific advice on planning strategy-based teaching.
Help students do math and get it at the same time. Read Comprehending Math, use its adaptations of familiar language arts strategies, and discover how deeply students can understand math concepts and how well they can use that knowledge to solve problems.
About the Author
Arthur Hyde is the author or coauthor of the Heinemann titles Understanding Middle School Mathematics; Comprehending Math; Best Practice, Fourth Edition; and Mathwise. A professor of mathematics education at National-Louis University, he received its Excellence in Teaching award. While teaching high school mathematics in Philadelphia, he developed a variety of creative methods for teaching math. He also obtained a doctorate in curriculum and instruction from the University of Pennsylvania, where he later was Associate Director of Teacher Preparation. He continues to work frequently in elementary and middle school classrooms and conducts extensive professional development programs on mathematics and problem solving in Chicago and its surrounding school districts.