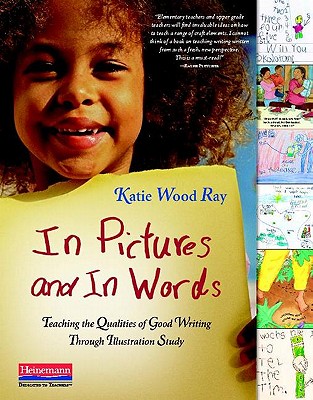 In Pictures and in Words (Paperback)
Teaching the Qualities of Good Writing Through Illustration Study
Heinemann Educational Books, 9780325028552, 280pp.
Publication Date: May 27, 2010
* Individual store prices may vary.
Description
Make abstract qualities like tone, detail, and organization easily visible for young writers with Katie Wood Ray's In Pictures and in Words.
"If teachers show children how an illustrator's decisions about pictures are a lot like a writer's decisions about words, they form a bridge of understanding that nurtures children as writers." Katie Wood Ray
Katie (beloved author of About the Authors and Already Ready) begins with a strong, classroom-based research foundation for this powerful, intuitive idea. She then suggests 50 ways you might use illustrations to help students internalize key aspects of craft through their love of picture books.
In Pictures and in Words is filled with sample student work that documents how children's thinking deepens as they explore illustrations. Katie even includes full-color pages of published illustrations with examples of sticky-notes that show the kinds of links students can make between pictures and words.
Give children an engaging way to make the qualities of good writing part of everything they write, for life. Find out how Katie Ray can help you do it when you read In Pictures and In Words.
About the Author
For many years as the author of bestselling Heinemann books such as About the Authors, Study Driven, Already Ready, and In Pictures and In Words, and as a member of Heinemann's Professional Development Services, Katie Wood Ray gave teachers resources and PD that transformed writing instruction and helped children discover a lifelong love of writing. In 2014, Katie "moved to the other side of the desk" and joined the dynamic team of editors at Heinemann where she works closely with authors to craft powerful professional books on a range of literacy topics. Katie is also the series editor for the new Classroom Essentials books from Heinemann. Tasked with bringing foundational, progressive practices to a new generation of teachers, Katie works to ensure that the sharp focus and enhanced design of each book best serve the content. She also teamed up with her longtime collaborator, Lisa Cleaveland, to write one of the first books in the series, A Teacher's Guide to Getting Started with Beginning Writers. You can find her on Twitter at @KatieWoodRay.