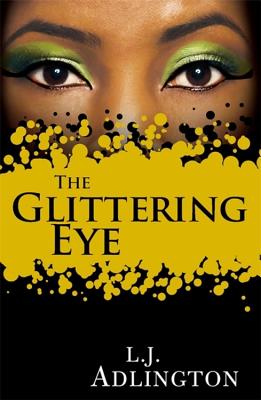 The Glittering Eye
Paperback

* Individual store prices may vary.
Description
Shabti wakes in a barley field with nothing but a hoe in his hand and a head full of fragmented memories. A vicious master torments his days, working in the fields with no way of escape, until a hole suspended in mid-air, leads him to a room. Two shiny gold eyes glitter back at him. Questions. Who is he? And to where does this room lead?

Amy arrives in Egypt to join her archaeologist father on an excavation. All around her tombs are unearthed, opened, entered. Left to her own devices, Amy discovers a rock. But not just any rock. A great tawny cat stares back at her from its smooth surface, its shiny gold eyes glittering. Questions. Where did it come from? And what should she do now?

When past, present and future collide, it's clear that some things are best left buried ...
Praise For The Glittering Eye…
PRAISE FOR THE DIARY OF PELLY D:
'a convincingly told and gripping story'
—
TES
'exciting and brilliantly crafted'—
School Librarian
'an ideal summer read for teens'—
The Bookbag
'an exciting, intriguing, and compelling story ... L.J. Adlington is a writer to watch. Outstanding, and highly recommended!'—
Write Away
'an amazing novel'—
Chicklish
'What originally looks like a conventional time-slip novel takes some unexpected, and intriguing, turns into Egyptian mythology.'—
Irish Times
'In this powerful debut novel, Adlington deftly sketches in the background to Pelly D's increasingly totalitarian world, whilst allowing her sparky heroine centre stage.'—
Books for Keeps September 05
... catches you by the throat and it doesn't let you go even when you have read the last paragraph. This is a brilliant example of storytelling at its most seductive ... a fastpaced, utterly absorbing novel that is hard to put down ...—
Sunday Morning Post, John Millen
... a clever, unusual story that readers looking for something different will find captivating. The book reveals its secrets slowly with maximum impact.—
South China Morning Post
The story timeslips between the ancient past and the present in a very satisfactory way.—
Carousel
Written in the breathless, racy style of a young teenager, Pelly's diaries just keep you reading ... It gives an old theme a fresh twist ...—
York Evening Press
Unexpected and intriguing.—
The Irish Times
This book is one thing: amazing.—
Voya
Peer Reveiws:
'Fantastic, imaginative, addictive and interesting.' Amanda, age 12
'I thought the book was full of exciting events and it fired up my imagination. It really grabbed my attention and interest.' Siham, age 14
'Interesting, informative, brilliant, entrancing.' Zoë, age 14
'I loved this book! I enjoyed learning about Egypt and following Amy and Shabti in two worlds...L J Adlington creates a great understanding of Egyptian artefacts and the blossoming romance between Amy and Jason.' Lyronne, age 14
'A compelling and mysterious book, with beautiful descriptions and a brilliant storyline.' Danielle, age 13
'I thought that the cover was brilliant and really went well with the theme of the story inside.' Tarsha, age 13
—
Peer Review Group
Readers of all ages will find this piece of sheer escapism quite enthralling.—
Hull Daily Mail
L J Adlington's spare and concise voice brings Pelly D vividly to life ... will intrigue and grip from the first diary entry to the open-ended and chilling conclusion.—
Pocklington Post
Adlington has crafted an original and disturbing dystopian fantasy told in a smart and sympathetic teen voice.—
Booklist
A highly distinctive novel...Addlington's writing is crisp and clear and the parallels she draws between the two worlds subtely nuanced. A clever, poignant novel...succeeding in being a page-turner whilst also allowing genuine reflection.—
Books for Keeps
Hachette Children's, 9780340956816, 320pp.
Publication Date: July 2, 2009
About the Author
L. J. Adlington is a writer, actress and costume historian. She lives in the north of England with a cat the size of a small armchair. She loves climbing volcanoes, watching crime dramas and reading fairy-tales. She is very good at eating chocolate. Her novels for teenagers weave together past, present, future and fantasy. Her latest novel Night Witches is set on a war-torn world, with a darkly complex and powerful heroine.
or
Not Currently Available for Direct Purchase