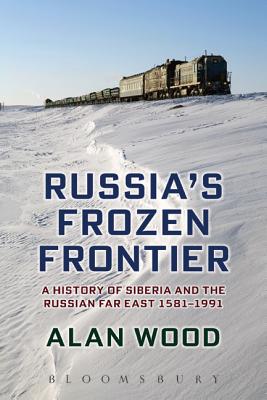 Russia's Frozen Frontier (Hardcover)
A History of Siberia and the Russian Far East 1581 - 1991
Bloomsbury Academic, 9780340971246, 320pp.
Publication Date: April 15, 2011
* Individual store prices may vary.
Description
Alan Wood's ambitious work is the first to address the whole span - both chronologically and thematically - of the development of Siberia, and its role in both the Russian and the global context. With a scope that reaches from to Muscovy's conquest of Siberia in the 16th and 17th centuries to modern times, it explores the effects of colonial exploitation, the Revolutions of 1917 and developments during the Soviet period. Russia's Frozen Frontier is also the first book to detail the history of Siberia from the view of Siberians themselves - both Russian and native - rather than seen through the lens of Moscow or St Petersburg.
About the Author
Alan Wood is Visiting Research Fellow in Russian History at Lancaster University and founder-editor of the journal SIBIRICA.
Praise For Russia's Frozen Frontier: A History of Siberia and the Russian Far East 1581 - 1991…
"The book is a fascinating and accessible study of a relatively unknown subject.  I found the work gripping... My impression of the book is that this will become a standard work on the subject, and would be of interest for a broad readership.  It would also be something that should be kept in print for a long time, since most of the material is not particularly time sensitive."—Richard Sakwa, Chair Politics & International Relations, UKC.
"Professor Wood has done a great service in providing, in one place, a concise history of one of the most significant regions of the Russian Empire/Soviet Union/Russian Federation in terms of its economy, geography and population. The book is thoroughly researched, beautifully written, and full of fascinating vignettes....Popular histories of Russia seem to have done very well in recent years and, if appropriately marketed it may well tap into some at least of the market enjoyed by Sebag-Montefiore, Figes and so on.  Some of these works are of high academic quality, others maybe not.  Woods' work undoubtedly belongs to the prior category, with the additional quality that it stands alone as a treatment of its subject matter."—Jeremy Smith, Senior Researcher, Russian History, University of Eastern Finland.
or
Not Currently Available for Direct Purchase