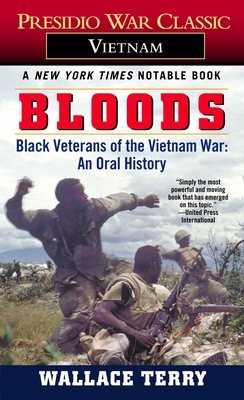 Bloods (Mass Market)
Black Veterans of the Vietnam War: An Oral History
Presidio Press, 9780345311979, 320pp.
Publication Date: July 12, 1985
* Individual store prices may vary.
Description
A NEW YORK TIMES NOTABLE BOOK • The national bestseller that tells the truth about the Vietnam War from the black soldiers' perspective.

An oral history unlike any other, Bloods features twenty black men who tell the story of how members of their race were sent off to Vietnam in disproportionate numbers, and of the special test of patriotism they faced. Told in voices no reader will soon forget, Bloods is a must-read for anyone who wants to put the Vietnam experience in historical, cultural, and political perspective.

Praise for Bloods

"Superb . . . a portrait not just of warfare and warriors but of beleaguered patriotism and pride. The violence recalled in Bloods is chilling. . . . On most of its pages hope prevails. Some of these men have witnessed the very worst that people can inflict on one another. . . . Their experience finally transcends race; their dramatic monologues bear witness to humanity."—Time

"[Wallace] Terry's oral history captures the very essence of war, at both its best and worst. . . . [He] has done a great service for all Americans with Bloods. Future historians will find his case studies extremely useful, and they will be hard pressed to ignore the role of blacks, as too often has been the case in past wars."—The Washington Post Book World

"Terry set out to write an oral history of American blacks who fought for their country in Vietnam, but he did better than that. He wrote a compelling portrait of Americans in combat, and used his words so that the reader—black or white—knows the soldiers as men and Americans, their race overshadowed by the larger humanity Terry conveys. . . . This is not light reading, but it is literature with the ring of truth that shows the reader worlds through the eyes of others. You can't ask much more from a book than that."—Associated Press

"Bloods is a major contribution to the literature of this war. For the first time a book has detailed the inequities blacks faced at home and on the battlefield. Their war stories involve not only Vietnam, but Harlem, Watts, Washington D.C. and small-town America."—Atlanta Journal-Constitution

"I wish Bloods were longer, and I hope it makes the start of a comprehensive oral and analytic history of blacks in Vietnam. . . . They see their experiences as Americans, and as blacks who live in, but are sometimes at odds with, America. The results are sometimes stirring, sometimes appalling, but this three-tiered perspective heightens and shadows every tale."—The Village Voice

"Terry was in Vietnam from 1967 through 1969. . . . In this book he has backtracked, Studs Terkel–like, and found twenty black veterans of the Vietnam War and let them spill their guts. And they do; oh, how they do. The language is raw, naked, a brick through a window on a still night. At the height of tension a sweet story, a soft story, drops into view. The veterans talk about fighting two wars: Vietnam and racism. They talk about fighting alongside the Ku Klux Klan."—The Boston Globe
About the Author
Wallace Terry was an award-winning journalist, news commentator, and bestselling author distinguished for his coverage of the Vietnam War and the Civil Rights Movement. His internationally acclaimed book, Bloods: An Oral History of the Vietnam War by Black Veterans, was named one of the five best nonfiction books of the year by Time magazine, and nominated for the Pulitzer Prize.
Praise For Bloods: Black Veterans of the Vietnam War: An Oral History…
"Superb . . . a portrait not just of warfare and warriors but of beleaguered patriotism and pride. The violence recalled in Bloods is chilling. . . . On most of its pages hope prevails. Some of these men have witnessed the very worst that people can inflict on one another. . . . Their experience finally transcends race; their dramatic monologues bear witness to humanity."—Time
 
"[Wallace] Terry's oral history captures the very essence of war, at both its best and worst. . . . [He] has done a great service for all Americans with Bloods. Future historians will find his case studies extremely useful, and they will be hard pressed to ignore the role of blacks, as too often has been the case in past wars."—The Washington Post Book World
 
"Terry set out to write an oral history of American blacks who fought for their country in Vietnam, but he did better than that. He wrote a compelling portrait of Americans in combat, and used his words so that the reader—black or white—knows the soldiers as men and Americans, their race overshadowed by the larger humanity Terry conveys. . . . This is not light reading, but it is literature with the ring of truth that shows the reader worlds through the eyes of others. You can't ask much more from a book than that."—Associated Press
 
"Bloods is a major contribution to the literature of this war. For the first time a book has detailed the inequities blacks faced at home and on the battlefield. Their war stories involve not only Vietnam, but Harlem, Watts, Washington D.C. and small-town America."—Atlanta Journal-Constitution
 
"I wish Bloods were longer, and I hope it makes the start of a comprehensive oral and analytic history of blacks in Vietnam. . . . They see their experiences as Americans, and as blacks who live in, but are sometimes at odds with, America. The results are sometimes stirring, sometimes appalling, but this three-tiered perspective heightens and shadows every tale."—The Village Voice
 
"Terry was in Vietnam from 1967 through 1969. . . . In this book he has backtracked, Studs Terkel–like, and found twenty black veterans of the Vietnam War and let them spill their guts. And they do; oh, how they do. The language is raw, naked, a brick through a window on a still night. At the height of tension a sweet story, a soft story, drops into view. The veterans talk about fighting two wars: Vietnam and racism. They talk about fighting alongside the Ku Klux Klan."—The Boston Globe
 
"The good, bad and the ugly of that war in one finely edited work. Terry . . . uses oral histories . . . to provide the most comprehensive vision of those who fought—and returned—that has yet been produced. . . . Almost any glowing adjective—or group of adjectives, for that matter—can be used to describe Bloods."—Detroit Free Press
 
"This is an invaluable addition to the expanding legion of histories about the Vietnam War. . . . A graphically illuminating but disquieting collection of twenty personal accounts reflecting the black military experience in Vietnam. . . . Through their recollections of the war, we see America's internal racial strife set against a major conflict."—Chicago Sun-Times
 
"The soldiers' descriptions of the war's ugliness and that of Americans fighting and dying were so dramatically explicit a reader could visualize himself shivering in the monsoon rain, stalking through muddy swamps, and witnessing comrades cut the ears off dead Vietcong rebels to wear on their dog chains. . . . Bloods is an attention-keeper. It lets the reader relive the emotions and the turmoil of these men during the war and upon returning home. . . . Bloods recovers once-lost pages of the Vietnam War that should never be forgotten again."—Nashville Banner
 
"Although Bloods are what black soldiers called themselves in Vietnam, the title also suggests the racism, vileness and bloodletting they experienced in America's most unpopular war. . . . But more than just a black view of the Vietnam conflict, the book is an absolute condemnation of war. If your eyes don't mist during one of the chapters, your tear ducts don't work."—Los Angeles Times