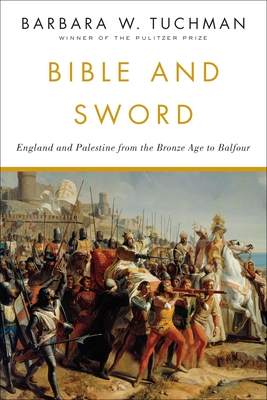 Bible and Sword: England and Palestine from the Bronze Age to Balfour (Paperback)
England and Palestine from the Bronze Age to Balfour
Random House Trade, 9780345314277, 372pp.
Publication Date: May 1, 2014
* Individual store prices may vary.
or
Not Currently Available for Direct Purchase
Description
From Barbara W. Tuchman, Pulitzer Prize-winning author of The Guns of August, comes history through a wide-angle lens: a fascinating chronicle of Britain's long relationship with Palestine and the Middle East, from the ancient world to the twentieth century.

Historically, the British were drawn to the Holy Land for two major reasons: first, to translate the Bible into English and, later, to control the road to India and access to the oil of the Middle East. With the lucidity and vividness that characterize all her work, Barbara W. Tuchman follows these twin spiritual and imperial motives--the Bible and the sword--to their seemingly inevitable endpoint, when Britain conquered Palestine at the conclusion of World War I. At that moment, in a gesture of significance and solemnity, the Balfour Declaration of 1917 established a British-sponsored mandate for a national home for the Jewish people. Throughout this characteristically vivid account, Tuchman demonstrates that the seeds of conflict were planted in the Middle East long before the official founding of the modern state of Israel. Praise for Bible and Sword "Tuchman is a wise and witty writer, a shrewd observer with a lively command of high drama."--The Philadelphia Inquirer

"In her metier as a narrative popular historical writer, Barbara Tuchman is supreme."--Chicago Sun-Times
About the Author
Barbara W. Tuchman (1912-1989) achieved prominence as a historian with The Zimmermann Telegram and international fame with The Guns of August--a huge bestseller and winner of the Pulitzer Prize. Her other works include Bible and Sword, The Proud Tower, Stilwell and the American Experience in China (for which Tuchman was awarded a second Pulitzer Prize), Notes from China, A Distant Mirror, Practicing History, The March of Folly, and The First Salute.
Praise For Bible and Sword: England and Palestine from the Bronze Age to Balfour…
"Tuchman is a wise and witty writer, a shrewd observer with a lively command of high drama."—The Philadelphia Inquirer
 
"In her métier as a narrative popular historical writer, Barbara Tuchman is supreme."—Chicago Sun-Times
Advertisement