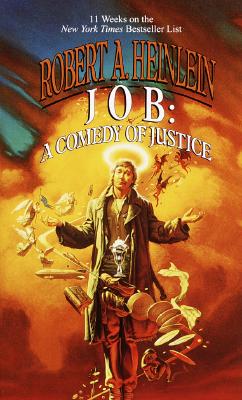 Job
Comedy of Justice
Mass Market

* Individual store prices may vary.
Description
NEW YORK TIMES BESTSELLER • Robert Heinlein at his superlative best. A fascinating and thought-provoking novel—one to make you smile, to make you wonder, and to make you care!

After that firewalking gig in Polynesia, the whole world was suddenly changed around him. Instead of fundamentalist minister Alexander Hergensheimer, he was now supposed to be Alec Graham, an underworld figure in the middle of an affair with his stewardess Margrethe—who was the only good thing in the whole mess.

Then there was an impossible iceberg that wrecked the ship in the tropics. Rescued by a Royal Mexican plane, they were hit by a double earthquake. From then on, as changed world followed changed world, things went from bad to worse.

To Alex, all the signs increasingly pointed to Armageddon and the Day of Judgement. And Margrethe was a determined heathen. Somehow he had to bring her to a state of grace, for Heaven would be no paradise without her. But time was growing short. 

Somewhere, there had to be a solution to it all. And, of course, there was. But it was truly a Hell of a solution.
Del Rey, 9780345316509, 448pp.
Publication Date: October 12, 1985
About the Author
Robert Anson Heinlein
was born in Missouri in 1907, and was raised there. He graduated from the U.S. Naval Academy in 1929, but was forced by illness to retire from the Navy in 1934. He settled in California and over the next five years held a variety of jobs while doing post-graduate work in mathematics and physics at the University of California. In 1939 he sold his first science fiction story to
Astounding
magazine and soon devoted himself to the genre.
He was a four-time winner of the Hugo Award for his novels Stranger in a Strange Land (1961), Starship Troopers (1959), Double Star (1956), and The Moon is a Harsh Mistress (1966). His Future History series, incorporating both short stories and novels, was first mapped out in 1941. The series charts the social, political, and technological changes shaping human society from the present through several centuries into the future.
Robert A. Heinlein's books were among the first works of science fiction to reach bestseller status in both hardcover and paperback. he continued to work into his eighties, and his work never ceased to amaze, to entertain, and to generate controversy. By the time he died, in 1988, it was evident that he was one of the formative talents of science fiction: a writer whose unique vision, unflagging energy, and persistence, over the course of five decades, made a great impact on the American mind.
or
Not Currently Available for Direct Purchase