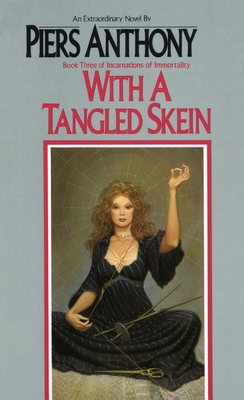 With a Tangled Skein (Incarnations of Immortality #3)
Mass Market

* Individual store prices may vary.
Description
Here in this third complete-in-itself novel of the Incarnations of Immortality, Piers Anthony weaves a fascinating plot as tangled as any skein of fate. This is Anthony at his most ingenious, with another gripping fantasy of the struggle of the incarnations against the machinations of Satan.

When the man Niobe loved was shot, she learned that she had been the target, in a devious plot of the Devil's. 

Hoping for revenge. Niobe accepted a position as one of the three Aspects of Fate, only to find that Satan's plots were tangled into the very Tapestry of Fate. Now the Evil One was laying a trap to ruin Niobe's granddaughter Luna, who threatened his plans—and he had tricked her son into Hell.

Niobe's only chance to save her son and Luna was to accept a challenge by the Prince of Deceit—a challenge to be decided in Hell and in a maze of Satan's devising!
Del Rey, 9780345318855, 416pp.
Publication Date: September 12, 1986
About the Author
Piers Anthony, sometimes called Pier Xanthony, is the pseudonym of a Mundane character who was born in England in 1934, came to America in 1940, was naturalized in 1958, and moved to Xanth in 1977. His first story was published in 1963, and his first novel, Chthon, in 1967. His first Xanth novel, A Spell for Chameleon, won the August Derleth Fantasy Award as the best novel for 1977, and his fantasy novels began placing on the New York Times bestseller list with Ogre, Ogre. He shifted from writing in pencil to writing on the computer, and Golem in the Gears was his first novel created on the machine; naturally, the computer found its way into Xanth.