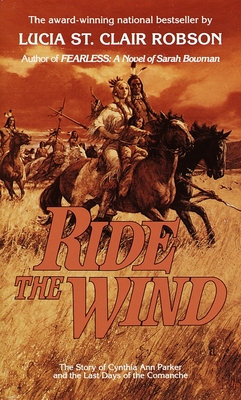 Ride the Wind (Paperback)
A Novel
Ballantine Books, 9780345325228, 608pp.
Publication Date: November 12, 1985
* Individual store prices may vary.
Description
In 1836, when she was nine years old, Cynthia Ann Parker was kidnapped by Comanche Indians from her family's settlement. 

She grew up with them, mastered their ways, and married one of their leaders. Except for her brilliant blue eyes and golden mane, Cynthia Ann Parker was in every way a Comanche woman. They called her Naduah—Keeps Warm With Us. She rode a horse named Wind.

This is her story, the story of a proud and innocent people whose lives pulsed with the very heartbeat of the land. It is the story of a way of life that is gone forever. 

It will thrill you, absorb you, touch your soul, and make you cry as you celebrate the beauty and mourn the end of the great Comanche nation.
About the Author
Born in Baltimore, Maryland, and raised in West Palm Beach, Florida, Lucia St. Clair Robson has been a Peace Corps volunteer in Venezuela and a teacher in Brooklyn. She lived in Japan for a year and later earned her master's degree before starting work as a public librarian in Annapolis, Maryland. She lives there now in a rustic 1920s summer community. Lucia Robson's library experience of presenting programs to a variety of audiences trained her in the craft of storytelling. She brings to the task of research a reference librarian's dogged persistence and an insider's awareness of how to find obscure sources of information.