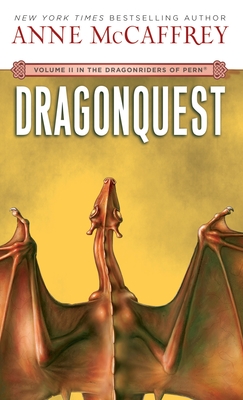 Dragonquest (Mass Market)
Volume II of The Dragonriders of Pern
Del Rey, 9780345335081, 384pp.
Publication Date: October 13, 1986
Other Editions of This Title:
Digital Audiobook (7/11/2007)
Digital Audiobook (7/11/2007)
Paperback (11/3/2019)
Paperback (4/1/2003)
Paperback (4/1/2003)
Paperback (4/1/2003)
Mass Market (3/31/2015)
Mass Market (4/28/2015)
Mass Market (2/24/2015)
Mass Market (5/12/1986)
Paperback (7/26/2005)
Prebound (10/1/1986)
Mass Market (12/27/1997)
Prebound (5/1/1986)
Mass Market (8/13/1989)
Prebound (5/12/1986)
Compact Disc (4/1/2013)
* Individual store prices may vary.
Description
Volume II of The Dragonriders of Pern®, the legendary series by award-winning author Anne McCaffrey

Since Lessa and Ramoth, her golden queen dragon, traveled into the past to bring forward a small army of dragons and riders to save their world from deadly alien spores, fear and desperation have spread across the land. But while the dragonriders struggle with threats both otherworldly and human, a young rider named F'nor and his brown dragon, Canth, hatch a bold plan to destroy the alien scourge at its source—the baleful red star that fills the heavens and promises doom to all.
About the Author
Anne McCaffrey, one of the world's most popular authors, is best known for her Dragonriders of Pern® series. She was the first woman to win the two top prizes for science fiction writing, the Hugo and Nebula awards. She was also given the American Library Association's Margaret A. Edwards Award for Lifetime Literary Achievement in Young Adult Fiction, was inducted into the Science Fiction Hall of Fame, and was named a Science Fiction Writers of America Grand Master. Born in Cambridge, Massachusetts, in 1926, McCaffrey relocated to Ireland in the 1970s, where she lived in a house of her own design, named Dragonhold-Underhill. She died in 2011.