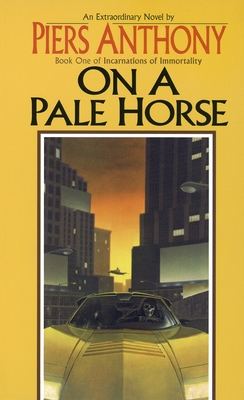 On a Pale Horse (Mass Market Paperbound)
Del Rey Books, 9780345338587, 336pp.
Publication Date: September 12, 1986
Description
When Zane shot Death, he learned, too late, that he would have to assume his place, speeding over the world riding his pale horse, and ending the lives of others. Sooner than he would have thought possible, Zane found himself being drawn to Satan's plot. Already the Prince of Evil was forging a trap in which Zane must act to destroy Luna, the woman he loved...unless he could discover the only way out....
The first novel of the INCARNATIONS OF IMMORATLITY series.
About the Author
Piers Anthony, sometimes called Pier Xanthony, is the pseudonym of a Mundane character who was born in England in 1934, came to America in 1940, was naturalized in 1958, and moved to Xanth in 1977. His first story was published in 1963, and his first novel, Chthon, in 1967. His first Xanth novel, A Spell for Chameleon, won the August Derleth Fantasy Award as the best novel for 1977, and his fantasy novels began placing on the New York Times bestseller list with Ogre, Ogre. He shifted from writing in pencil to writing on the computer, and Golem in the Gears was his first novel created on the machine; naturally, the computer found its way into Xanth.
Advertisement