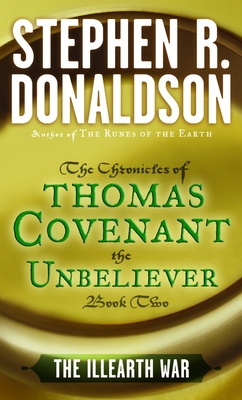 The Illearth War (Mass Market Paperbound)
Del Rey Books, 9780345348661, 544pp.
Publication Date: October 12, 1987
Description
The second volume in the epic Chronicles of Thomas Covenant the Unbeliever.
Thomas Covenant found himself once again summoned to the Land. The Council of Lords needed him to move against Foul the Despiser who held the Illearth Stone, ancient source of evil power. But although Thomas Covenant held the legendary ring, he didn't know how to use its strength, and risked losing everything....
About the Author
Stephen R. Donaldson is the bestselling author of the series The Gap Cycle, Mordant's Need, and the Chronicles of Thomas Covenant the Unbeliever, including Lord Foul's Bane and The Second Chronicles of Thomas Covenant; and other works, such as Daughter of Regals and Other Tales and a mystery series under the pseudonym Reed Stephens. He is the recipient of the first prize of the British Science Fiction Society and the John W. Campbell Memorial Award.
Advertisement