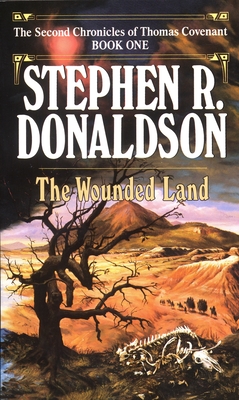 Wounded Land (Mass Market Paperbound)
Del Rey Books, 9780345348685, 512pp.
Publication Date: October 12, 1987
Description
Four thousand years have passed since Covenant first freed the Land from the devastating grip of Lord Foul and his minions. But he is back, and Convenant, armed with his stunning white gold magic, must battle the evil forces and his own despair....
THE SECOND CHRONICLE OF THOMAS COVENANT
Book OneTHE WOUNDED LAND
Book TwoTHE ONE TREE
Book ThreeWHITE GOLD WIELDER.
About the Author
Stephen R. Donaldson is the bestselling author of the series The Gap Cycle, Mordant's Need, and the Chronicles of Thomas Covenant the Unbeliever, including Lord Foul's Bane and The Second Chronicles of Thomas Covenant; and other works, such as Daughter of Regals and Other Tales and a mystery series under the pseudonym Reed Stephens. He is the recipient of the first prize of the British Science Fiction Society and the John W. Campbell Memorial Award.
Advertisement