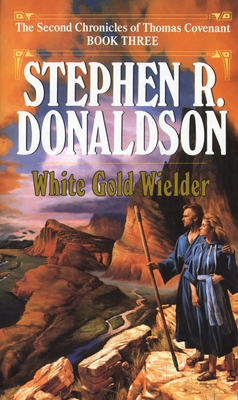 White Gold Wielder (The Second Chronicles (Mass Market)
Thomas Covenant the Unbeliever #3)
Del Rey, 9780345348708, 512pp.
Publication Date: October 12, 1987
* Individual store prices may vary.
Description
White Gold Wielder: the stunning conclusion to Stephen Donaldson's extraordinary fantasy saga

Thomas Covenant realized that despite their awful failure on the Isle of The One Tree, there was no alternative but to return to the Land and fight. Mhoram had warned him: ". . . In the end, you must return to the Land."

After a long and arduous journey overland, the company reaches Revelstone. Following a fiery showdown with Gibbon Raver, Covenant discovers that he can come to terms with—and control—his awesome power. As he readies himself for the final showdown with Lord Foul, the Despiser, Thomas Covenant knows he has the answer at last.
About the Author
Stephen R. Donaldson is the bestselling author of the series The Gap Cycle, Mordant's Need, and the Chronicles of Thomas Covenant the Unbeliever, including Lord Foul's Bane and The Second Chronicles of Thomas Covenant; and other works, such as Daughter of Regals and Other Tales and a mystery series under the pseudonym Reed Stephens. He is the recipient of the first prize of the British Science Fiction Society and the John W. Campbell Memorial Award.