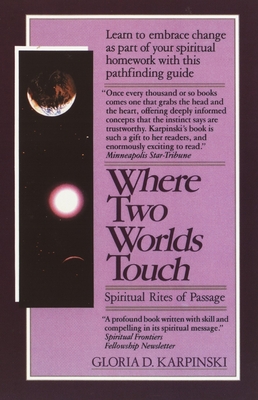 Where Two Worlds Touch (Paperback)
Ballantine, 9780345353313, 352pp.
Publication Date: March 31, 1999
Description
No matter where you are in your own spiritual work, this book can show you how to harness the power of an experience we all share and often fear: change. Discover how you can learn to consciously use change as a spiritual rite of passage. Illustrated with wonderful allegorical tales from all the major spiritual traditions, compelling life stories and transformative exercises, WHERE TWO WORLDS TOUCH shows you that even the mundane details of everyday life offer rich fuel for personal evolution.
About the Author
Gloria D. Karpinski, a holistic counselor and teacher, is the author of Barefoot on Holy Ground: Twelve Lessons in Spiritual Craftsmanship and Where Two Worlds Touch: Spiritual Rites of Passage. She received her degree from University of North Carolina and has presented lectures and workshops throughout the world.
Advertisement