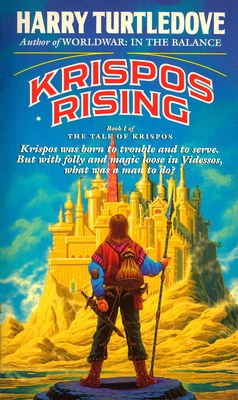 Krispos Rising (The Tale of Krispos, Book One) (The Tale of Krispos of Videssos #1) (Mass Market)
Del Rey, 9780345361189, 368pp.
Publication Date: January 14, 1991
* Individual store prices may vary.
Description
Videssos was beset by enemies abroad and had fallen into decadence at home. But on his first night in the imperial capital, The Empire's health mattered less to Krispos than finding a dry place to sleep.

Driven by crushing taxes from the farm where his family had lived—and died—Krispos had come to the. city seeking what fortune a good mind and a strong back could earn. He had a single goldpiece to his name—the gift, years past, of a nomad chieftain to a ragged peasant boy. Now, though the night was raw and the inn was warm, he was loath to spend that coin, for the barbarian had claimed it carried magic.

Keep his lucky goldpiece or trade it for a warm, dry bed? Krispos tucked the coin away and stepped back into the wet streets—all unaware that so simple a choice would lead to a world of peril and possibility. . . .
About the Author
Harry Turtledove is the award-winning author of the alternate-history works The Man with the Iron Heart, The Guns of the South, and How Few Remain (winner of the Sidewise Award for Best Novel); the Hot War books: Bombs Away, Fallout, and Armistice; the War That Came Early novels: Hitler's War, West and East, The Big Switch, Coup d'Etat, Two Fronts, and Last Orders; the Worldwar saga: In the Balance, Tilting the Balance, Upsetting the Balance, and Striking the Balance; the Colonization books: Second Contact, Down to Earth, and Aftershocks; the Great War epics: American Front, Walk in Hell, and Breakthroughs; the American Empire novels: Blood and Iron, The Center Cannot Hold, and Victorious Opposition; and the Settling Accounts series: Return Engagement, Drive to the East, The Grapple, and In at the Death. Turtledove is married to fellow novelist Laura Frankos. They have three daughters—Alison, Rachel, and Rebecca—and two granddaughters, Cordelia Turtledove Katayanagi and Phoebe Quinn Turtledove Katayanagi.
or
Not Currently Available for Direct Purchase