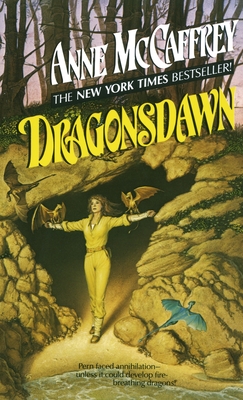 Dragonsdawn (Pern #9) (Mass Market)
Del Rey, 9780345362865, 384pp.
Publication Date: August 13, 1989
Other Editions of This Title:
Digital Audiobook (7/11/2007)
Digital Audiobook (7/11/2007)
Paperback (11/3/2019)
Paperback (4/1/2003)
Paperback (4/1/2003)
Paperback (4/1/2003)
Mass Market (3/31/2015)
Mass Market (4/28/2015)
Mass Market (2/24/2015)
Mass Market (5/12/1986)
Paperback (7/26/2005)
Mass Market (10/13/1986)
Prebound (10/1/1986)
Mass Market (12/27/1997)
Prebound (5/1/1986)
Prebound (5/12/1986)
Compact Disc (4/1/2013)
* Individual store prices may vary.
Description
NEW YORK TIMES BESTSELLER • Go back in time and visit Pern like it's never been seen before in this thrilling prequel about the creation of dragons.
 
The beautiful planet Pern seemed a paradise to its new colonists—until unimaginable terror turned it into hell. Suddenly deadly spores were falling like silver threads from the sky, devouring everything—and everyone—on their path. It began to look as if the colony, cut off from Earth and lacking the resources to combat the menace, was doomed.
 
Then some of the colonists noticed that the small, dragonlike lizards that inhabited their new world were joining the fight against Thread, breathing fire on it and teleporting to safety. If only, they thought, the dragonets were big enough for a human to ride and intelligent enough to work as a team with a rider…
 
And so they set their most talented geneticist to work to create the creatures Pern so desperately needed—Dragons!
About the Author
Anne McCaffrey, one of the world's most popular authors, is best known for her Dragonriders of Pern® series. She was the first woman to win the two top prizes for science fiction writing, the Hugo and Nebula awards. She was also given the American Library Association's Margaret A. Edwards Award for Lifetime Literary Achievement in Young Adult Fiction, was inducted into the Science Fiction Hall of Fame, and was named a Science Fiction Writers of America Grand Master. Born in Cambridge, Massachusetts, in 1926, McCaffrey relocated to Ireland in the 1970s, where she lived in a house of her own design, named Dragonhold-Underhill. She died in 2011.