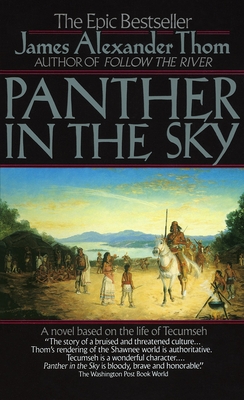 Panther in the Sky (Mass Market Paperbound)
Ballantine Books, 9780345366382, 704pp.
Publication Date: February 13, 1990
Description
"Thom shows how, in honest, capable hands, fictionalized biography can add verisimilitude to the life and times of this extraordinary America....The dialogue has the ring of reality about it....Thom is able to get into the thoughts and emotions of his characters...."
DEE BROWN
LOS ANGELES TIMES
Rich, colorful and bursting with excitment, this remarkable story turns James Alexander Thom's power and passion for American history to the epic story of Tecumseh's life and give us a heart-thumping novel of one man's magnificent destiny--to unite his people in the struggle to save their land and their way of life from the relentless press of the white settlers.
About the Author
James Alexander Thom is the author of Follow the River, Long Knife, From Sea to Shining Sea, Panther in the Sky (for which he won the prestigious Western Writers of America Spur Award for best historical novel), Sign-Talker, The Children of First Man, and The Red Heart.
Advertisement