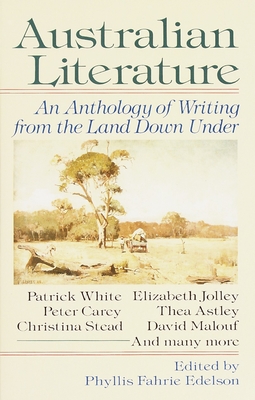 Australian Literature: An Anthology of Writing from the Land Down Under (Paperback)
An Anthology of Writing from the Land Down Under
Ballantine Books, 9780345368003, 336pp.
Publication Date: April 19, 1993
Description
Spanning more than a century, Australian Literature crystallizes a spirit, style, and ethos found nowhere else in world literature. These captivating selections in Australian Literature come from major voices, both famous and lesser known, and encompass short stories, memoirs, novels and aboriginal writings. Resonant or wryly witty, charming or disturbing, they explore themes deeply rooted in the Australian experience--shaping the land, the legacies of the convict past, the displacement of the aborigine, the search for a national identity, sex, love, and commitment. Including these stories: "The Drover's Wife" by Henry Lawson
"The Chosen Vessel" by Barbara Baynton
"The Loaded Dog" by Henry Lawson
From The Tree of Man by Patrick White
"The Night We Watched for Wallabies" by Steele Rudd
"A Gentleman's Agreement" by Elizabeth Jolley
"Northern Belle" by Thea Astley
"The Cooboo" by Katharine Susannah Prichard
From Dr. Wooreddy's Prescription for Enduring the Ending of the World by Colin Johnson
"Going Home" by Archie Weller
From Wanamurraganya: The Story of Jack McPhee by Sally Morgan
"Breaking a Man's Spirit" by Marcus Clarke
"Absalom Day's Promotion" by Price Warung
"The First Days" by A. B. Facey
"In the Trenches" by A. B. Facey
From The Merry-Go-Round in the Sea by Randolph Stow
"The Kyogle Line" by David Malouf
"American Dreams" by Peter Carey
"Willy-wagtails by Moonlight" by Patrick White
"A Good Marriage" by Olga Masters
"Civilization and Its Discontents" by Helen Garner
"The Train Will Shortly Arrive" by Frank Moorhouse
"Two Hanged Women" by Henry Handel Richardson
"Brown Seaweed and Old Fish Nets" by Christina Stead
"The Woman at the Window" by Marian Eldridge
"A Woman with Black Hair" by Beverley Farmer
"Blood and Water" by Tim Winton.
About the Author
Phyllis Fahrie Edelson was a professor and chair of the department of English and Communications at Pace University. She was a founding member of the American Association for Australian Literary Studies and book review editor of Antipodes, the first American journal of Australian Studies. After retiring from Pace, Edelson worked as a docent at the Morgan Library and Museum in New York City. She passed away in July 2016.
Advertisement