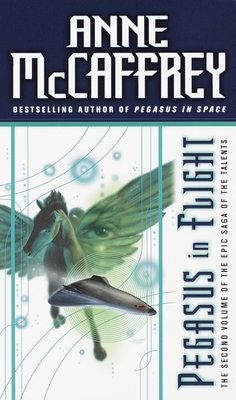 Pegasus in Flight (The Talents Saga #2)
Mass Market

* Individual store prices may vary.
Description
"[Anne] McCaffrey's world of the Talented is as vivid as that of Pern and its dragons."—Publishers Weekly

Earth has reached its darkest moment. In subterranean warrens, the poor eke out precarious lives where jobs are scarce and children are sold for labor—while on the surface, a privileged few enjoy lives of luxury. As the population surges and unrest spreads, a disaster of epic proportions seems inescapable. The only hope: a platform under construction in space from which starships will be launched to colonize distant planets. But the project is critically behind schedule.

In the midst of the chaos, Rhyssa Owen and her fellow Talents—telepaths who read minds, kinetics who manipulate matter, and precogs to whom the future is an open book—struggle to survive. Then two children are discovered whose extraordinary psychic gifts have the potential to avert the looming catastrophe—or hasten its ominous arrival. . . .
Del Rey, 9780345368973, 304pp.
Publication Date: October 13, 1991
About the Author
Anne McCaffrey, one of the world's most popular authors, is best known for her Dragonriders of Pern® series. She was the first woman to win the two top prizes for science fiction writing, the Hugo and Nebula awards. She was also given the American Library Association's Margaret A. Edwards Award for Lifetime Literary Achievement in Young Adult Fiction, was inducted into the Science Fiction Hall of Fame, and was named a Science Fiction Writers of America Nebula Grand Master. Born in Cambridge, Massachusetts, in 1926, McCaffrey relocated to Ireland in the 1970s, where she lived in a house of her own design, named Dragonhold-Underhill. She died in 2011.