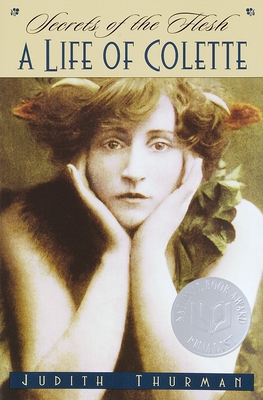 Secrets of the Flesh (Paperback)
A Life of Colette
Ballantine Books, 9780345371034, 672pp.
Publication Date: October 31, 2000
Other Editions of This Title:
Digital Audiobook (10/10/2016)
* Individual store prices may vary.
Description
A dazzling biography of the French literary superstar Colette, who is also the subject of a major motion picture.

"A fine and intelligent biography of Colette, with her long tumultuous life and the great body of her work scrupulously considered and presented with style."—The New York Times Book Review (Editors' Choice)

NATIONAL BOOK AWARD FINALIST • WINNER OF THE LOS ANGELES TIMES BOOK AWARD • NOMINATED FOR THE NATIONAL BOOK CRITICS CIRCLE AWARD

Having spent her childhood in the shadow of an overpowering mother, Colette escaped at age twenty into a turbulent marriage with the sexy, unscrupulous Willy—a literary charlatan who took credit for her bestselling Claudine novels. Weary of Willy's sexual domination, Colette pursued an extremely public lesbian love affair with a niece of Napoleon's. At forty, she gave birth to a daughter who bored her, at forty-seven she seduced her teenage stepson, and in her seventies she contributed to the pro-Nazi press during the Occupation, even though her beloved third husband, a Jew, had been arrested by the Gestapo. And all the while, this incomparable woman poured forth a torrent of masterpieces, including Gigi, Sido, Cheri, and Break of Day. 

Judith Thurman, author of the National Book Award-winning biography of Isak Dinesen, portrays Colette as a thoroughly modern woman: frank in her desires, fierce in her passions, forever reinventing herself. Rich with delicious gossip and intimate revelations, shimmering with grace and intelligence, Secrets of the Flesh is one of the great biographies of our time.

Chosen as one of the Best Books of the Year by The Village Voice and Newsday

"[Colette] has been the subject of . . . a half-dozen significant biographies over the past thirty years. Yet this one by Judith Thurman will be hard to top. . . . Its prose is smoothly urbane, at times aphoristic, always captivating."—The Washington Post Book World

"It will stand as literature in its own right."—Richard Bernstein, The New York Times

"[An] essential biography by a stylish writer of great sympathetic understanding and intellectual authority."—Philip Roth
About the Author
Judith Thurman is the author of Isak Dinesen: The Life of a Storyteller, Secrets of the Flesh: A Life of Colette, and Cleopatra's Nose: 39 Varieties of Desire. A staff writer at The New Yorker, she lives in New York City.
Praise For Secrets of the Flesh: A Life of Colette…
"A fine and intelligent biography of Colette, with her long tumultuous life and the great body of her work scrupulously considered and presented with style."—The New York Times Book Review (Editors' Choice)

"[Colette] has been the subject of . . . a half-dozen significant biographies over the past thirty years. Yet this one by Judith Thurman will be hard to top. . . . Its prose is smoothly urbane, at times aphoristic, always captivating."—The Washington Post Book World

"It will stand as literature in its own right."—Richard Bernstein, The New York Times

"[An] essential biography by a stylish writer of great sympathetic understanding and intellectual authority."—Philip Roth

"Colette's last word was regarde, and this is what Judith Thurman has done so well. She has taken all the pieces of this difficult and fascinating life, and shown it to us whole."—The Times (London)

"Vastly entertaining reading . . . An exhaustive, elegantly written, complex, and subtle study . . . through which Colette emerges as resilient and vulnerable in equal measure, spurred on by phenomenal resources of energy and an exuberant joy in life. . . . Certainly the extraordinary, rebellious, extravagant spirit that was Colette continues to fascinate and to inspire. . . . Her life [was] a unique drama, retold with sensitivity, depth, and authority in Judith Thurman's magnificent biography."—Newsday

"[A] near-perfect biography . . . If anyone ever wondered whether nonfiction could be art, then they should read the work of Judith Thurman."—The Sunday Telegraph

"As poetic a work of art as anything her subject, the brilliant French writer, could have penned. . . . Secrets reads as smoothly as a novel, and Thurman's technique is flawless."—Time Out New York

"Thurman's account, informed by a penetrating intelligence and written with seductive elegance, is the latest of many, but it is good enough to become the last word. Astringently clear-headed in its arguments, vividly evocative of the varied milieus that Colette in her socially adventurous life frequented, it is as richly enjoyable as a good old-fashioned realist novel, with a huge cast of characters . . . sumptuous and diverse locations . . . and a heroine whose personality was as singular and as splendidly outrageous as her trademark purple hair."—The Sunday Times (London)

"A biography that oozes intelligence, affection, and skepticism in all the right dosages. . . . Secrets of the Flesh not only dissects Collette's personal life but also seduces the reader into exploring her body of work."—Village Voice Literary Supplement

"There is a grandeur to [Colette's] long life to which Thurman, in this splendid volume, does ample justice. She is perceptive about the contradictions which make Colette such a troubling figure, especially her habit of expressing extremely conservative opinions while living entirely at odds with them. . . . She emerges from Thurman's biography as a radical reactionary, a paradox who fascinates and repels in equal measure."—Financial Times