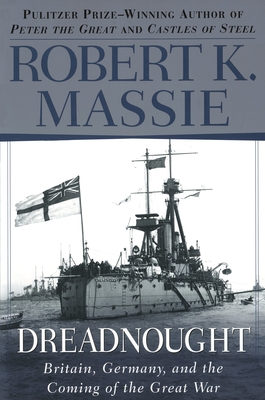 Dreadnought (Paperback)
Ballantine Books, 9780345375568, 1040pp.
Publication Date: September 15, 1992
Description
A gripping chronicle of the personal and national rivalries that led to the twentieth century's first great arms race, from Pulitzer Prize winner Robert K. Massie With the biographer's rare genius for expressing the essence of extraordinary lives, Massie brings to life a crowd of glittery figures: the single-minded Admiral von Tirpitz; the young, ambitious Winston Churchill; the ruthless, sycophantic Chancellor Bernhard von Bulow; Britain's greatest twentieth-century foreign secretary, Sir Edward Grey; and Jacky Fisher, the eccentric admiral who revolutionized the British navy and brought forth the first true battleship, the H.M.S. Dreadnought. Their story, and the story of the era, filled with misunderstandings, missed opportunities, and events leading to unintended conclusions, unfolds like a Greek tragedy in this powerful narrative. Intimately human and dramatic, Dreadnought is history at its most riveting. Praise for Dreadnought "Dreadnought is history in the grand manner, as most people prefer it: how people shaped, or were shaped by, events."--Time "A classic that] covers superbly a whole era . . . engrossing in its glittering gallery of characters."--Chicago Sun-Times " Told] on a grand scale . . . Massie is] a master of historical portraiture and anecdotage."--The Wall Street Journal "Brilliant on everything he writes about ships and the sea. It is Massie's eye for detail that makes his nautical set pieces so marvelously evocative."--Los Angeles Times
About the Author
Robert K. Massie was born in Lexington, Kentucky, and studied American history at Yale and European history at Oxford, which he attended as a Rhodes Scholar. He was president of the Authors Guild from 1987 to 1991. His books include Nicholas and Alexandra; Peter the Great: His Life and World (for which he won a Pulitzer Prize for biography); The Romanovs: The Final Chapter; Dreadnought: Britain, Germany, and the Coming of the Great War; Castles of Steel: Britain, Germany, and the Winning of the Great War at Sea; and Catherine the Great: Portrait of a Woman.
Advertisement