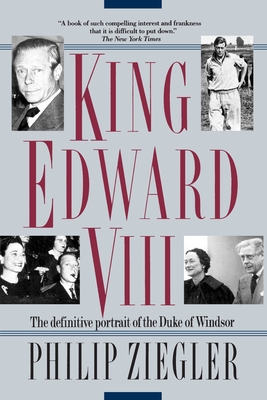 King Edward VIII: A Life (Paperback)
A Life
Ballantine, 9780345375636, 620pp.
Publication Date: August 8, 1998
Description
He was the twentieth century's Prince Charming. Handsome, elegant, quick-witted, charismatic, and an intimate friend of the most powerful and brilliant people of his day, he had everything youth and beauty could hope for--including fabulous wealth and claim to the English throne. Then, a mere eleven months after becoming King, Edward VIII threw everything away to marry the woman he loved--Wallis Simpson, an American divorcee. In this superbly written biography, Philip Ziegler, author of the highly praised biographies Diana Cooper and Mountbatten paints a graceful, balanced, and utterly mesmerizing portrait of the life and times of Edward VIII. Drawing on Edward's extremely frank and explicit diaries and his two thousand love letters (long assumed to have been destroyed), Ziegler shows us the man he truly was. It is a story as compelling as the greatest English novels. Praise for King Edward VIII

"A book of such compelling interest and frankness that it is difficult to put down."--The New York Times "Almost breathtaking in its candor . . . a] shrewdly judged, highly polished, and totally riveting book."--The New Yorker "A masterpiece."--The Times Literary Supplement (London) "Compulsively readable . . . Ziegler has told Edward's story with consummate skill, tact and judgment."--The Sunday Times (London)
About the Author
Philip Ziegler was born in 1929 and educated at Eton and New College, Oxford, where he gained first-class honours in jurisprudence. He then joined the diplomatic service and served in Vientiane, Paris, Pretoria, and Bogota before resigning to join the publishers William Collins, where he was editorial director for more than 15 years. His books have included biographies of William IV, Melbourne, Lady Diana Cooper, Mountbatten, and Edward VIII. He lives in London.
Advertisement