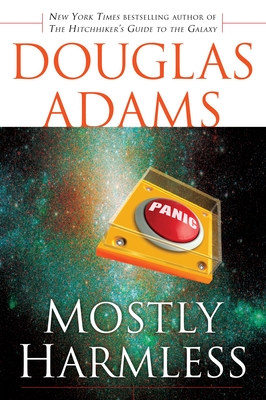 Mostly Harmless (Paperback)
Del Rey Books, 9780345379337, 288pp.
Publication Date: October 19, 1993
* Individual store prices may vary.
or
Not Currently Available for Direct Purchase
Description
It's easy to get disheartened when your planet has been blown up, the woman you love has vanished due to a misunderstanding about space/time, the spaceship you are on crashes on a remote and Bob-fearing planet, and all you have to fall back on are a few simple sandwich-making skills. However, instead of being disheartened, Arthur Dent makes the terrible mistake of starting to enjoy life a bit-and immediately all hell breaks loose. Hell takes a number of forms: there's the standard Ford Prefect version, in the shape of an all-new edition of The Hitchhiker's Guide to the Galaxy, and a totally unexpected manifestation in the form of a teenage girl who startles Arthur Dent by being his daughter when he didn't even know he had one. Can Arthur save the Earth from total multidimensional obliteration? Can he save the Guide from a hostile alien takeover? Can he save his daughter, Random, from herself? Of course not. He never works out exactly what is going on. Will you?
About the Author
Douglas Adams was born in 1952 and educated at Cambridge. He was the author of five books in the Hitchhiker's Trilogy, including The Hitchhiker's Guide to the Galaxy; The Restaurant at the End of the Universe; Life, the Universe and Everything; So Long, and Thanks for All the Fish; and Mostly Harmless. His other works include Dirk Gently's Holistic Detective Agency; The Long Dark Tea-Time of the Soul; The Meaning of Liff and The Deeper Meaning of Liff (with John Lloyd); and Last Chance to See (with Mark Carwardine). His last book was the bestselling collection, The Salmon of Doubt, published posthumously in May 2002.You can find more about Douglas Adam's life and works at douglasadams.com.
Praise For Mostly Harmless…
"Hitchhiker fans rejoice! . . . [Here's] more of the same zany nonsensical mayhem."—New York Times Book Review


"It is Mr. Adams's genius to hurl readers into a plot that seems to go everywhere and nowhere, then suddenly drop the pieces into place, click, click, click, like tumblers in a lock. . . . Delightful."—Baltimore Sun

Advertisement