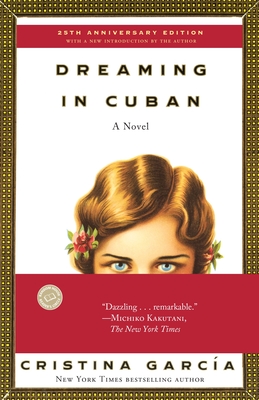 Dreaming in Cuban (Paperback)
Ballantine Books, 9780345381439, 256pp.
Publication Date: February 10, 1993
Description
"Impressive . . . Cristina Garcia's] story is about three generations of Cuban women and their separate responses to the revolution. Her special feat is to tell it in a style as warm and gentle as the 'sustaining aromas of vanilla and almond, ' as rhythmic as the music of Beny More."--Time Cristina Garcia's acclaimed book is the haunting, bittersweet story of a family experiencing a country's revolution and the revelations that follow. The lives of Celia del Pino and her husband, daughters, and grandchildren mirror the magical realism of Cuba itself, a landscape of beauty and poverty, idealism and corruption. Dreaming in Cuban is "a work that possesses both the intimacy of a Chekov story and the hallucinatory magic of a novel by Gabriel Garcia Marquez" (The New York Times). In celebration of the twenty-fifth anniversary of the novel's original publication, this edition features a new introduction by the author. Praise for Dreaming in Cuban "Remarkable . . . an intricate weaving of dramatic events with the supernatural and the cosmic . . . evocative and lush."--San Francisco Chronicle

"Captures the pain, the distance, the frustrations and the dreams of these family dramas with a vivid, poetic prose."--The Washington Post

"Brilliant . . . With tremendous skill, passion and humor, Garcia just may have written the definitive story of Cuban exiles and some of those they left behind."--The Denver Post
About the Author
Cristina Garcia is the author of seven novels, most recently King of Cuba, and the forthcoming Berliners Who. She has published poetry, books for young readers, and edited anthologies on Latino/a literature. Her work has been nominated for a National Book Award and translated into fourteen languages. She is the recipient of a Guggenheim Fellowship, a Whiting Award, and an NEA grant, among others. Garcia has taught at universities nationwide and lives in the San Francisco Bay area.
Praise For Dreaming in Cuban…
"Dazzling . . . Remarkable."
—MICHIKO KAKUTANI
The New York Times

"MARVELOUS . . . A JEWEL OF A NOVEL . . .
Dreaming in Cuban is beautifully written in language that is by turns languid and sensual, curt and surprising. Like Louise Erdrich, whose crystalline language is distilled of images new to our American literature but old to this land, Ms. García has distilled a new tongue from scraps salvaged through upheaval. . . . It is [the] ordinary magic in Ms. García's novel and her characters' sense of their own lyricism that make her work welcome as the latest sign that American literature has its own hybrid offspring of the Latin American school."
—THULANI DAVIS
The New York Times Book Review

"Poignant and perceptive . . . It tells of a family divided politically and geographically by the Cuban revolution . . . [and] of the generational fissures that open on each side: In Cuba, between a grandmother who is a fervent Castro supporter and a daughter who retreats into an Afro-Cuban santeria cult; in America, between another daughter, who mocks her obsession . . . The realism is exquisite."
—RICHARD EDER
Los Angeles Times

"Remarkable . . . A rich and haunting narrative . . . An intricate weaving of dramatic events with the supernatural and the cosmic . . . Evocative and lush."
—JACKIE JONES
San Francisco Chronicle

"Impressive . . . Her story is about three generations of Cuban women and their separate responses to the revolution. Her special feat is to tell it in a style as warm and gentle as the 'sustaining aromas of vanilla and almond,' as rhythmic as the music of Beny Moré."
—AMELIA WEISS
Time

Advertisement