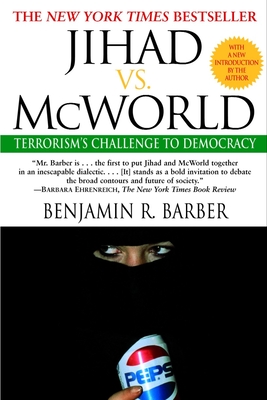 Jihad vs. McWorld (Paperback)
Terrorism's Challenge to Democracy
Ballantine Books, 9780345383044, 432pp.
Publication Date: July 30, 1996
* Individual store prices may vary.
Description
Jihad vs. McWorld is a groundbreaking work, an elegant and illuminating analysis of the central conflict of our times: consumerist capitalism versus religious and tribal fundamentalism. These diametrically opposed but strangely intertwined forces are tearing apart--and bringing together--the world as we know it, undermining democracy and the nation-state on which it depends.

On the one hand, consumer capitalism on the global level is rapidly dissolving the social and economic barriers between nations, transforming the world's diverse populations into a blandly uniform market. On the other hand, ethnic, religious, and racial hatreds are fragmenting the political landscape into smaller and smaller tribal units. Jihad vs. McWorld is the term that distinguished writer and political scientist Benjamin R. Barber has coined to describe the powerful and paradoxical interdependence of these forces. In this important new book, he explores the alarming repercussions of this potent dialectic for democracy.

A work of persuasive originality and penetrating insight, Jihad vs. McWorld holds up a sharp, clear lens to the dangerous chaos of the post-Cold War world. Critics and political leaders have already heralded Benjamin R. Barber's work for its bold vision and moral courage. Jihad vs. McWorld is an essential text for anyone who wants to understand our troubled present and the crisis threatening our future.
About the Author
Benjamin Barber was an internationally renowned political theorist, the Kekst Professor of Civil Society at the University of Maryland, and a Distinguished Senior Fellow at Demos in New York City. He died in 2017.
Praise For Jihad vs. McWorld: Terrorism's Challenge to Democracy…
"An important new book."¶
--Newsweek
¶
"Mr. Barber is. . . the first to put Jihad and McWorld together in an inescapable dialectic . . . . [It] stands as a bold invitation to debate the broad contours and future of society."¶
--Barbara Ehrenreich¶
The New York Times Book Review¶
¶
"COMPELLING. . . IMPRESSIVE. . . A thorough, engaging look at the current state of world affairs."¶
--The American Reporter

"Challenging and instructive."¶
--San Francisco Chronicle
¶
"Barber is well worth reading. . . for an introduction to the real world, look at Jihad vs. McWorld."¶
--The Nation¶

"Stimulating, tartly written."¶
--Publishers Weekly