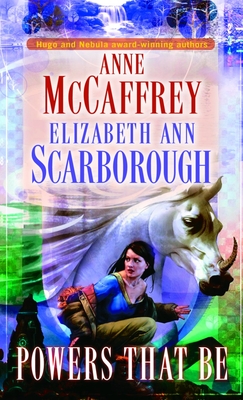 Powers That Be (Petaybee Trilogy #1) (Mass Market)
Del Rey, 9780345387790, 384pp.
Publication Date: May 1, 1994
* Individual store prices may vary.
Description
From the Hugo and Nebula award-winning authors comes the Petaybee series, full of gripping fantasy and daring adventure.
 
Strange things are happening on the icy planet of Petaybee: Unauthorized genetically engineered species have been spotted; geologic survey teams sent to locate newly detected mineral deposits are either coming up empty or disappearing altogether. And the locals aren't talking—especially not to the company bent on exploiting the planet. 

Disabled combat veteran Yanaba Maddock seems to be the perfect spy for the company. The frailty that was a liability in the military allows her to gain the trust of the Petaybean natives. But miraculously, with Yana's relocation to the arctic planet comes the return of her health and strength. And the closer she gets to the people of Petaybee, the more determined she is to protect her new home. For something unusual and wonderful is happening on Petaybee. Something worth fighting for, even dying for—but especially, something worth living for. . . .
About the Author
Anne McCaffrey, one of the world's most popular authors, is best known for her Dragonriders of Pern® series. She was the first woman to win the two top prizes for science fiction writing, the Hugo and Nebula awards. She was also given the American Library Association's Margaret A. Edwards Award for Lifetime Literary Achievement in Young Adult Fiction, was inducted into the Science Fiction Hall of Fame, and was named a Science Fiction Writers of America Grand Master. Born in Cambridge, Massachusetts, in 1926, McCaffrey relocated to Ireland in the 1970s, where she lived in a house of her own design, named Dragonhold-Underhill. She died in 2011.

Elizabeth Ann Scarborough, winner of the Nebula Award for her novel The Healer's War, is the author of numerous fantasy novels. She has co-authored twelve novels with Anne McCaffrey. She lives on the Olympic Peninsula in Washington State.
or
Not Currently Available for Direct Purchase