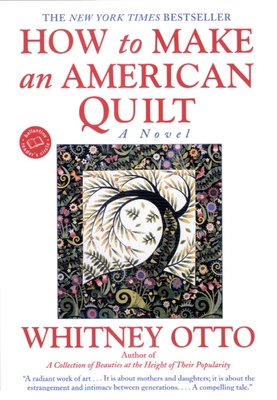 How to Make an American Quilt (Paperback)
A Novel
Ballantine Books, 9780345388964, 240pp.
Publication Date: April 12, 1994
Other Editions of This Title:
Audio Cassette, Abridged, Abridged (3/1/1992)
Mass Market Paperback (2/1/1992)
* Individual store prices may vary.
Description
"Remarkable . . . It is a tribute to an art form that allowed women self-expression even when society did not. Above all, though, it is an affirmation of the strength and power of individual lives, and the way they cannot help fitting together."—The New York Times Book Review

An extraordinary and moving novel, How to Make an American Quilt is an exploration of women of yesterday and today, who join together in a uniquely female experience. As they gather year after year, their stories, their wisdom, their lives, form the pattern from which all of us draw warmth and comfort for ourselves.

The inspiration for the major motion picture featuring Winona Ryder, Anne Bancroft, Ellen Burstyn, and Maya Angelou

Praise for How to Make an American Quilt

"Fascinating . . . highly original . . . These are beautiful individual stories, stitched into a profoundly moving whole. . . . A spectrum of women's experience in the twentieth century."—Los Angeles Times

"Intensely thoughtful . . . In Grasse, a small town outside Bakersfield, the women meet weekly for a quilting circle, piercing together scraps of their husbands' old workshirts, children's ragged blankets, and kitchen curtains. . . . Like the richly colored, well-placed shreds that make up the substance of an American quilt, details serve to expand and illuminate these characters. . . . The book spans half a century and addresses not only [these women's] histories but also their children's, their lovers', their country's, and in the process, their gender's."—San Francisco Chronicle

"A radiant work of art . . . It is about mothers and daughters; it is about the estrangement and intimacy between generations. . . . A compelling tale."—The Seattle Times
About the Author
Whitney Otto is the bestselling author of How to Make an American Quilt (which was made into a feature film), Now You See Her, and The Passion Dream Book. A native of California, she lives in Portland, Oregon.
Praise For How to Make an American Quilt: A Novel…
"Remarkable . . . It is a tribute to an art form that allowed women self-expression even when society did not. Above all, though, it is an affirmation of the strength and power of individual lives, and the way they cannot help fitting together."—The New York Times Book Review

"Fascinating . . . highly original . . . These are beautiful individual stories, stitched into a profoundly moving whole. . . . A spectrum of women's experience in the twentieth century."—Los Angeles Times

"Intensely thoughtful . . . In Grasse, a small town outside Bakersfield, the women meet weekly for a quilting circle, piercing together scraps of their husbands' old workshirts, children's ragged blankets, and kitchen curtains. . . . Like the richly colored, well-placed shreds that make up the substance of an American quilt, details serve to expand and illuminate these characters. . . . The book spans half a century and addresses not only [these women's] histories but also their children's, their lovers', their country's, and in the process, their gender's."—San Francisco Chronicle

"A radiant work of art . . . It is about mothers and daughters; it is about the estrangement and intimacy between generations. . . . A compelling tale."—The Seattle Times