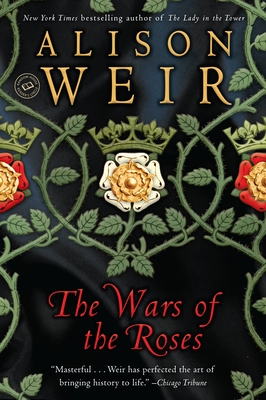 The Wars of the Roses (Paperback)
Ballantine Books, 9780345404336, 496pp.
Publication Date: June 25, 1996
* Individual store prices may vary.
Description
Lancaster and York. For much of the fifteenth century, these two families were locked in battle for control of the English throne. Kings were murdered and deposed. Armies marched on London. Old noble names were ruined while rising dynasties seized power and lands. The war between the royal houses of Lancaster and York, the most complex in English history, profoundly altered the course of the monarchy. Alison Weir, one of the foremost authorities on British history, brings brilliantly to life both the war itself and the larger-tha-life figures who fought it on the great stage of England. The Wars of the Roses is history at its very best—swift and compelling, rich in character, pageantry, and drama, and vivid in its re-creation of an astonishing period of history.



About the Author
Alison Weir is the New York Times bestselling author of the novels Katherine of Aragon: The True Queen; The Marriage Game, A Dangerous Inheritance; Captive Queen; The Lady Elizabeth; and Innocent Traitor and numerous historical biographies, including The Lost Tudor Princess, Elizabeth of York, Mary Boleyn, The Lady in the Tower, Mistress of the Monarchy, Henry VIII, Eleanor of Aquitaine, The Life of Elizabeth I, and The Six Wives of Henry VIII. She lives in Surrey, England, with her husband.
Praise For The Wars of the Roses…
"Weir does a masterful job of leading the layman through the entwined family trees of England's powerful families. . . . [She] has perfected the art of bringing history to life."—Chicago Tribune

"[A] spellbinding chronicle . . . [Alison] Weir's dark, glorious pageant restores the personal dimension to an oft-told tale without losing sight of a war that shattered feudalism, paved the way for capitalism, and weakened the monarchy."—Publishers Weekly (starred review)

"[Weir is] skilled at delineating the many memorable characters of the age. . . . It's a tribute to her skill that she leaves you wanting more."—The Plain Dealer

"A magnificent history."—The Boston Globe