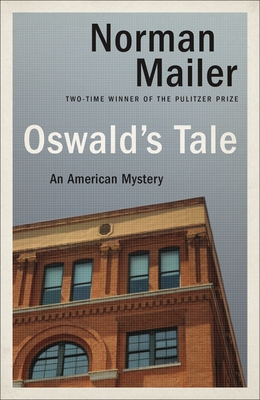 Oswald's Tale (Paperback)
Random House Trade, 9780345404374, 864pp.
Publication Date: June 25, 1996
Description
In perhaps his most important literary feat, Norman Mailer fashions an unprecedented portrait of one of the great villains--and enigmas--in United States history. Here is Lee Harvey Oswald--his family background, troubled marriage, controversial journey to Russia, and return to an "America waiting] for him like an angry relative whose eyes glare in the heat." Based on KGB and FBI transcripts, government reports, letters and diaries, and Mailer's own international research, this is an epic account of a man whose cunning, duplicity, and self-invention were both at home in and at odds with the country he forever altered. Praise for Oswald's Tale

"America's largest mystery has found its greatest interpreter."--The Washington Post Book World "Mailer is fierce, courageous, and reckless and nearly everything he writes has sections of headlong brilliance. . . . From the American master conjurer of dark and swirling purpose, a moving reflection."--Robert Stone, The New York Review of Books

"A narrative of tremendous energy and panache; the author at the top of his form."--Christopher Hitchens, Financial Times

"The performance of an author relishing the force and reach of his own acuity."--Martin Amis, The Sunday Times (London)

Praise for Norman Mailer

" Norman Mailer] loomed over American letters longer and larger than any other writer of his generation."--The New York Times "A writer of the greatest and most reckless talent."--The New Yorker "Mailer is indispensable, an American treasure."--The Washington Post "A devastatingly alive and original creative mind."--Life "Mailer is fierce, courageous, and reckless and nearly everything he writes has sections of headlong brilliance."--The New York Review of Books "The largest mind and imagination in modern] American literature . . . Unlike just about every American writer since Henry James, Mailer has managed to grow and become richer in wisdom with each new book."--Chicago Tribune "Mailer is a master of his craft. His language carries you through the story like a leaf on a stream."--The Cincinnati Post
About the Author
Born in 1923 in Long Branch, New Jersey, and raised in Brooklyn, New York, Norman Mailer was one of the most influential writers of the second half of the twentieth century and a leading public intellectual for nearly sixty years. He is the author of more than thirty books. The Castle in the Forest, his last novel, was his eleventh New York Times bestseller. His first novel, The Naked and the Dead, has never gone out of print. His 1968 nonfiction narrative, The Armies of the Night, won the Pulitzer Prize and the National Book Award. He won a second Pulitzer for The Executioner's Song and is the only person to have won Pulitzers in both fiction and nonfiction. Five of his books were nominated for National Book Awards, and he won a lifetime achievement award from the National Book Foundation in 2005. Mr. Mailer died in 2007 in New York City.
Praise For Oswald's Tale…
Praise for Oswald's Tale
 
"America's largest mystery has found its greatest interpreter."—The Washington Post Book World
 
"Mailer is fierce, courageous, and reckless and nearly everything he writes has sections of headlong brilliance. . . . From the American master conjurer of dark and swirling purpose, a moving reflection."—Robert Stone, The New York Review of Books
 
"A narrative of tremendous energy and panache; the author at the top of his form."—Christopher Hitchens, Financial Times
 
"The performance of an author relishing the force and reach of his own acuity."—Martin Amis, The Sunday Times (London)
 
Praise for Norman Mailer
 
"[Norman Mailer] loomed over American letters longer and larger than any other writer of his generation."—The New York Times
 
"A writer of the greatest and most reckless talent."—The New Yorker
 
"Mailer is indispensable, an American treasure."—The Washington Post
 
"A devastatingly alive and original creative mind."—Life
 
"Mailer is fierce, courageous, and reckless and nearly everything he writes has sections of headlong brilliance."—The New York Review of Books
 
"The largest mind and imagination [in modern] American literature . . . Unlike just about every American writer since Henry James, Mailer has managed to grow and become richer in wisdom with each new book."—Chicago Tribune
 
"Mailer is a master of his craft. His language carries you through the story like a leaf on a stream."—The Cincinnati Post
Advertisement