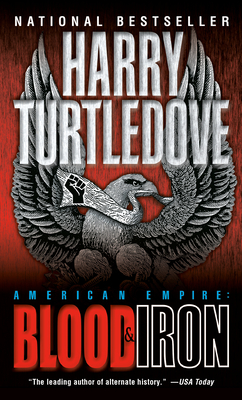 Blood and Iron (Mass Market Paperbound)
Del Rey Books, 9780345405661, 656pp.
Publication Date: June 25, 2002
* Individual store prices may vary.
or
Not Currently Available for Direct Purchase
Description
AMERICAN EMPIRE: BOOK ONE Twice in the last century, brutal war erupted between the United States and the Confederacy. Then, after a generation of relative peace, The Great War exploded worldwide. As the conflict engulfed Europe, the C.S.A. backed the Allies, while the U.S. found its own ally in Imperial Germany. The Confederate States, France, and England all fell. Russia self-destructed, and the Japanese, seeing that the cause was lost, retired to fight another day. The Great War has ended, and an uneasy peace reigns around most of the world. But nowhere is the peace more fragile than on the continent of North America, where bitter enemies share a single landmass and two long, bloody borders. In the North, proud Canadian nationalists try to resist the colonial power of the United States. In the South, the once-mighty Confederate States have been pounded into poverty and merciless inflation. U.S. President Teddy Roosevelt refuses to return to pre-war borders. The scars of the past will not soon be healed. The time is right for madmen, demagogues, and terrorists. At this crucial moment in history, with Socialists rising to power in the U.S. under the leadership of presidential candidate Upton Sinclair, a dangerous fanatic is on the rise in the Confederacy, preaching a message of hate. And in Canada another man--a simple farmer--has a nefarious plan: to assassinate the greatest U.S. war hero, General George Armstrong Custer. With tension on the seas high, and an army of Marxist Negroes lurking in the swamplands of the Deep South, more than enough people are eager to return the world to war. Harry Turtledove sends his sprawling cast of men and women--wielding their own faiths, persuasions, and private demons--into the troubled times between the wars. From the Hardcover edition.
About the Author
Harry Turtledove is the award-winning author of the alternate-history works The Man with the Iron Heart, The Guns of the South, and How Few Remain (winner of the Sidewise Award for Best Novel); the War That Came Early novels: Hitler's War, West and East, The Big Switch, Coup d'Etat, and Two Fronts; the Worldwar saga: In the Balance, Tilting the Balance, Upsetting the Balance, and Striking the Balance;the Colonization books: Second Contact, Down to Earth, and Aftershocks; the Great War epics: American Front, Walk in Hell, and Breakthroughs; the American Empire novels: Blood & Iron, The Center Cannot Hold, and Victorious Opposition; and the Settling Accounts series: Return Engagement, Drive to the East, The Grapple, andIn at the Death. Turtledove is married to fellow novelist Laura Frankos. They have three daughters: Alison, Rachel, and Rebecca.
Praise For Blood and Iron…
"Turtledove [is] the standard-bearer for alternate history."
--USA Today

"A moving meditation on revenge...sure to both please and terrify." -- SciFi Weekly

"Harry Turtledove is ...amazing in the the realness of the structure and detail of his created alternate history. he is obviously a master of the form." -- Science Fiction Chronicle
Advertisement