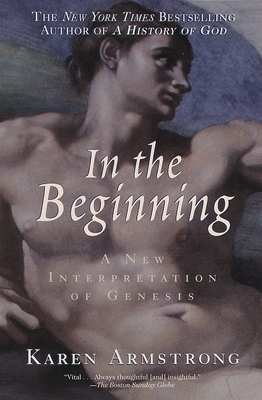 In the Beginning (Paperback)
A New Interpretation of Genesis
Ballantine Books, 9780345406040, 208pp.
Publication Date: October 7, 1997
Description
"KAREN ARMSTRONG IS A GENIUS."
--A. N. Wilson
As the foundation stone of the Jewish and Christian scriptures, The Book of Genesis unfolds some of the most arresting stories of world literature--the Creation; Adam and Eve; Cain and Abel; the sacrifice of Isaac. Yet the meaning of Genesis remains enigmatic. In this fascinating volume, Karen Armstrong, author of the highly acclaimed bestseller A History of God, brilliantly illuminates the mysteries and profundities of this mystifying work.
"A lyrical chronicle of one woman's wrestling with Genesis that can serve as a guide to others . . . As notable for its scholarship as it is for its honesty and vulnerability."
--Publishers Weekly
"Armstrong can simplify complex ideas, but she is never simplistic."
--The New York Times Book Review.
About the Author
Karen Armstrong is the author of numerous books on religion, including The Case for God, A History of God, The Battle for God, Holy War, Islam, Buddha, and Fields of Blood, as well as a memoir, The Spiral Staircase. Her work has been translated into 45 languages. In 2008 she was awarded the TED Prize and began working with TED on the Charter for Compassion, created online by the general public, crafted by leading thinkers in Judaism, Christianity, Islam, Hinduism, Buddhism, and Confucianism. It was launched globally in the fall of 2009. Also in 2008, she was awarded the Franklin D. Roosevelt Four Freedoms Medal. In 2013, she received the British Academy's inaugural Nayef Al-Rodhan Prize for Transcultural Understanding.
Advertisement