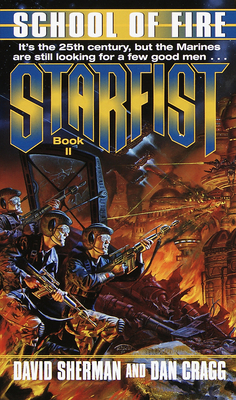 Starfist: School of Fire (Mass Market Paperbound)
School of Fire
Del Rey Books, 9780345406231, 352pp.
Publication Date: June 28, 1998
* Individual store prices may vary.
or
Not Currently Available for Direct Purchase
Description
Combat, betrayal, and murder at the edge of human space . . .
Deployed to assist the oligarchs of Wanderjahr in putting down a rebellion that threatens the planet's political and economic stability, the Marines must fight two wars at the same time . . . one against the resourceful, well-led guerrillas and another with the entrenched police bureaucracy.
But who is the real enemy and who can be trusted? On Wanderjahr, nothing is as it seems--not even the animal life--and everyone has his own agenda. Inexorably, the Marines of the 34th FIST are drawn deeper and deeper into the politics of a world where murder, terror, and betrayal are the accepted methods of government . . . and everyone is ripe for an old-fashioned butt-kickin'.
About the Author
David Sherman is a former United States Marine and the author of eight previously published novels about Marines in Vietnam, where he served as an infantryman and as a member of a Combined Action Platoon. He is an alumnus of the Pennsylvania Academy of the Fine Arts and worked as a sculptor for many years before turning to writing. Along the way he has held a variety of jobs, mostly supervisory and managerial. Today he is a full-time writer. He lives in Philadelphia. Dan Cragg enlisted in the U.S. Army in 1958 and retired with the rank of sergeant major twenty-two years later. During his Army service, Mr. Cragg served more than eleven years in overseas stations, five and a half of them in Vietnam. He is the author of Inside the VC and NVA (with Michael Lee Lanning), Top Sergeant (with William G. Bainbridge), and a Vietnam War novel, The Soldier's Prize. In real life Mr. Cragg is an analyst for the Defense Department. He and his wife, Sunny, live in Virginia, where honest citizens are allowed to pack heat. Visitors after dark are strongly urged to call ahead.
Advertisement