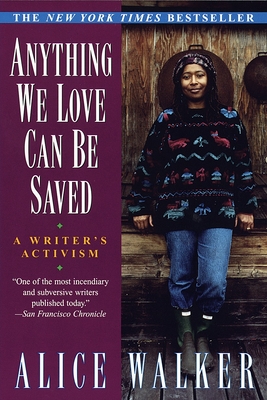 Anything We Love Can Be Saved: A Writer's Activism (Paperback)
A Writer's Activism
Ballantine Books, 9780345407962, 256pp.
Publication Date: April 7, 1998
Description
In Anything We Love Can Be Saved, Alice Walker writes about her life as an activist, in a book rich in the belief that the world is saveable, if only we will act. Speaking from her heart on a wide range of topics--religion and the spirit, feminism and race, families and identity, politics and social change--Walker begins with a moving autobiographical essay in which she describes her own spiritual growth and roots in activism. She goes on to explore many important private and public issues: being a daughter and raising one, dreadlocks, banned books, civil rights, and gender communication. She writes about Zora Neale Hurston and Salman Rushdie and offers advice to Bill Clinton. Here is a wise woman's thoughts as she interacts with the world today, and an important portrait of an activist writer's life.
About the Author
Alice Walker won the Pulitzer Prize and the National Book Award for her novel The Color Purple. Her other novels include By the Light of My Father's Smile and Possessing the Secret of Joy. She is also the author of three collections of short stories, three collections of essays, seven volumes of poetry, and several children's books. Born in Eatonton, Georgia, Walker now lives in Northern California.
Advertisement