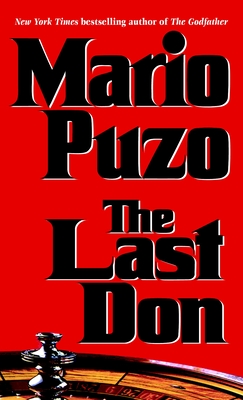 The Last Don (Mass Market Paperbound)
Ballantine Books, 9780345412218, 512pp.
Publication Date: January 29, 1997
Description
A masterful saga of the last great American Mafia family and its powerful reach into Hollywood and Las Vegas, from the author of The Godfather

The Last Don is Domenico Clericuzio, a wise and ruthless old man who is determined to see his heirs established in legitimate society but whose vision is threatened when secrets from the family's past spark a vicious war between two blood cousins. The Last Don is a mesmerizing tale that takes us inside the equally corrupt worlds of the mob, the movie industry, and the casinos where beautiful actresses and ruthless hitmen are ruled by lust and violence, where sleazy producers and greedy studio heads are drunk on power, where crooked cops and desperate gamblers play dangerous games of betrayal, and where one man controls them all. Praise for The Last Don "Puzo is in top form. . . . Head-long entertainment, bubbling over with corruption, betrayal, assassinations, Richter-scale romance, and, of course, family values."--Time "The most entertaining read since The Godfather."--The New York Times Book Review "Skillfully crafted . . . It gives us Hollywood, Las Vegas, and the mob in one sweet dish."--Los Angeles Times Book Review "Puzo returns after a quarter century to the terrain of his greatest success, The Godfather, to tell a second masterful tale of Mafia life."--Variety "A compelling tale peopled by memorable characters . . . Puzo is a master storyteller with an uncanny facility for details that force the reader to keep the pages turning."--USA Today
About the Author
The son of Italian immigrants who moved to the Hell's Kitchen area of New York City, Mario Puzo was born on October 15, 1920. After World War II, during which he served as a U.S. Army corporal, he attended City College of New York on the G.I. Bill and worked as a freelance writer. During this period he wrote his first two novels, The Dark Arena and The Fortunate Pilgrim.When his books made little money despite being critically acclaimed, he vowed to write a bestseller. The Godfather was an enormous success. He collaborated with director Francis Ford Coppola on the screenplays for all three Godfather movies and won Academy Awards for both The Godfather and The Godfather, Part II. He also collaborated on the scripts for such films as Superman, Superman II, and The Cotton Club. He continued to write phenomenally successful novels, including Fools Die, The Sicilian, The Fourth K, and The Last Don. Mario Puzo died on July 2, 1999. His final novel, Omerta, was published in 2000.
Advertisement