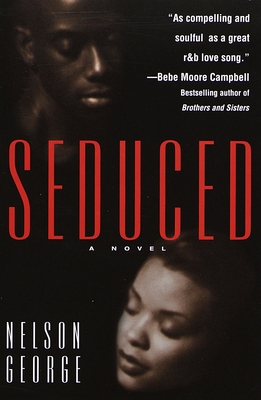 Seduced (Paperback)
One World, 9780345412669, 352pp.
Publication Date: January 21, 1997
* Individual store prices may vary.
Description
"[A] smart, funny, and wonderfully resonant novel . . . It's the 1980s, and aspiring songwriter Derek Harper is a man easily seduced. Not only do the Big Three *money, fame, and women *keep him running, but Harper falls prey to subtler forms of seduction as well: the ease of rationalizing bad behavior, abdicating responsibility, and keeping the whole world at arm's length. All these issues are brilliantly interwoven with a behind-the-scenes look at the music industry, particularly the evolution of rap."

*Los Angeles Times Book Review



"Seduced is at its most compelling when author Nelson George delves into the differences between life in the projects and the middle-class heaven of St. Albans and how it evolved over thirty years. . . . George's style is, well, seductive, luring the reader into a world that takes in the range of black experience funneled through the music industry."

*St. Petersburg Times



"Seduced shows Nelson George at the top of his game doing what he does best: zinging the black music biz. The road chapters alone have enough shrill wit, stabbing satire, and tight accuracy to parallel the life of anyone who's ever been out there during the Reagan-stressed '80s."

*Houston Chronicle



"In Seduced, Nelson keeps it real. This is a sex story, a New York story, and a music biz story rolled into one, starring a humble, beautifully average middle-class dreamer, who's not unlike a male version of a Terry McMillan heroine."

*Touré
About the Author
Nelson George is the author of eight books, including Elevating the Game, The Death of Rhythm and Blues, Where Did Our Love Go?, Seduced, and the highly praised Buppies, B-Boys, Baps & Bohos. A graduate of St. John's University, he was Billboard's black music editor for seven years before becoming a regular columnist for The Village Voice in 1989. He is a cowriter of the screenplays Strictly Business and CB4, as well as a Grammy Award winner for James Brown's album Startime. George was born and grew up in Brooklyn, New York.