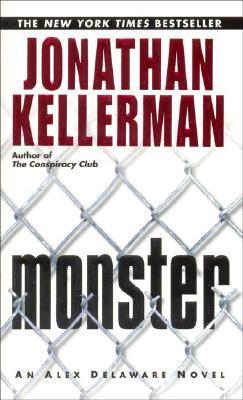 Monster: An Alex Delaware Novel (Mass Market Paperback)
An Alex Delaware Novel
Ballantine Books, 9780345413871, 416pp.
Publication Date: September 5, 2000
* Individual store prices may vary.
or
Not Currently Available for Direct Purchase
Description
A second-rate actor is found mutilated in a car trunk. Then a psychologist at a Los Angeles hospital for the criminally insane is murdered in a similar grisly fashion. Suddenly the incoherent ramblings of an inmate at the presumably secure institution begin to make chilling sense—they are, in fact, horrifying predictions. Yet how can a barely functional psychotic locked behind asylum walls possibly know such vivid details of crimes committed in the outside world? Drawn into a labyrinth of secrets, revenge, sex, and manipulation, Dr. Alex Delaware and Detective Milo Sturgis set out to unlock this enigma and put an end to the brutal killings—before the madman predicts their own demise. . . .
Praise For Monster: An Alex Delaware Novel…
"[A] SURPRISING AND COMPLEX STORY OF EVIL . . . STUNNINGLY DRAMATIC."
—People (Page-turner of the Week)

"UNSETTLING AND THRILLING . . . RIGHT FROM THE START OF MONSTER, JONATHAN KELLERMAN DOES EVERYTHING RIGHT."
—The Baltimore Sun

"KELLERMAN DELIVERS . . . GET READY TO SLEEP WITH THE LIGHTS ON. . . . GET READY TO BE HORRIFIED . . . AND PERVERSELY INTRIGUED."
—Rocky Mountain News

"Jonathan Kellerman has justly earned his reputation as a master of the psychological thriller."
—People

"Riveting . . . Kellerman's latest shiver-producing, hair-raising, shocking, suspenseful thriller [is] definitely his best yet. . . . The tension is palpable, the plot filled with devilish convolutions, and the sense of impending danger heart-stoppingly tense. . . . Dr. Alex Delaware is at his brilliantly analytical zenith."
—Booklist (starred and boxed review)

Kellerman "has shaped the psychological mystery novel into an art form."
—Los Angeles Times Book Review

"Often, mystery writers can either plot like devils or create believable characters. Kellerman stands out because he can do both. Masterfully."
—USA Today

"Kellerman doesn't just write psychological thrillers—he owns the genre."
—Detroit Free Press

"In top form in his latest mystery featuring L.A. forensic psychologist Alex Delaware, Kellerman devises a deviously twisted, contemporary tale that draws pulsing suspense from the ageless relationship between madness and evil. . . . A tense climax in the hills above L.A. brings together all the tautly woven threads as Kellerman delivers another chilling look into the dark corners of the human psyche."
—Publishers Weekly (starred review)

"Nobody evokes Los Angeles better than Kellerman."
—Los Angeles Times

"Monster, a furiously paced mind-bender, contains enough mystery to hold readers spellbound."
—BookPage

"Kellerman is an ace at spinning a story that holds the reader's interest, plausible but unpredictable until the final page."
—The Denver Post

"Recommended . . . Intelligent, well-drawn characters and the kind of plot twists that make the best mysteries fun to read."
—Library Journal

Advertisement