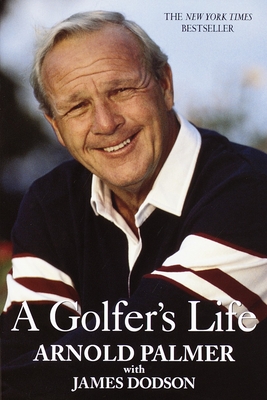 A Golfer's Life (Paperback)
Ballantine Books, 9780345414823, 432pp.
Publication Date: February 29, 2000
Description
There has never been a golfer to rival Arnold Palmer. To the legions of golf fans around the world, Palmer is a charismatic hero, the winner of sixty-one tournaments on the PGA Tour and still going strong on the Senior PGA Tour. But behind the legend, there is the private Palmer--a man of wit, compassion, loyalty, and true grit in the face of personal adversity.
Writing with the humor and candor that are as much his trademark as his unique golf swing, Palmer narrates the deeply moving story of his life both on and off the links. He recounts the loving relationship he shared with his father, "Deacon" Palmer, the course superintendent and head professional at the Latrobe Country Club where young Arnie developed his game, his friendships and rivalries with golf greats, his enduringly happy marriage with Winnie, his legendary charges to triumph and titanic disasters, and his valiant battle against cancer and remarkable recovery.
Arnold Palmer has lived one of the great sporting lives of the twentieth century. Now, with the help of acclaimed golf writer James Dodson, he has created one of the great sports autobiographies of our time.
About the Author
James Dodson is a contributing editor and regular columnist for Golf magazine and golf editor for Departures magazine. His work has appeared in GQ, Travel & Leisure, Outside, and numerous other national magazines. His columns won the Golf Writers of America Award in 1995. Dodson's first book, Final Rounds, became an instant golf classic. From the Hardcover edition.
Praise For A Golfer's Life…
"Arnold Palmer has led a rich and singular life and has captured it in a wonderful book."
--The New York Times Book Review

"THIS MEMOIR SHOOTS BELOW PAR. . . . Most thrilling to fans will be his shot-by-shot perspective on legendary golf matches, such as the 1960 U.S. Open, where Palmer, Hogan, and Nicklaus converged."
--Publishers Weekly

"A BOOK FIT FOR A KING . . . Palmer's love of golf, and of the life it gave him, streams forth in his new autobiography, A Golfer's Life."
--Golf World

"A GOLFER'S LIFE EASILY MAKES THE CUT."
--Sports Illustrated

"IRRESISTIBLE."
--The Wall Street Journal
Advertisement