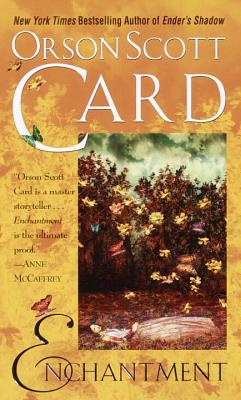 Enchantment (Mass Market Paperbound)
Del Rey Books, 9780345416889, 416pp.
Publication Date: February 29, 2000
Description
The moment young Ivan stumbled upon a clearing in the dense Carpathian forest, his life was forever changed. Atop a pedestal encircled by fallen leaves, the beautiful princess Katerina lay as still as death--while a malevolent presence stirred in the hidden depths below. Now, years later, Ivan is compelled to return. He finds the clearing just as he left it. This time he does not run . . .
About the Author
Orson Scott Card is the first writer to be awarded both the Hugo and the Nebula for science fiction novels in two consecutive years. He is thus far the recipient of four Hugo Awards, two Nebula Awards, one World Fantasy Award, and four Locus Awards, among others. Also, a dozen of his plays have been produced in regional theater, his novel Saints has been an underground hit for several years, and he has written hundreds of audio plays and a dozen scripts for animated video plays for the family market. He is the author of two books on writing: Character and Viewpoint and How to Write Science Fiction and Fantasy. Card has conducted writing courses at several universities and a number of renowned workshops. In addition, Card is a partner in Fresco Pictures, a movie production company. He lives in Greensboro, North Carolina, with his family.
Praise For Enchantment…
"Orson Scott Card is a master storyteller . . . Enchantment is the ultimate proof."
--ANNE MCCAFFREY

"[A] MASTERPIECE OF THE FANTASTIC . . . THIS IS A NOVEL TO SAVOR . . . DELICIOUS."
--Rocky Mountain News

"Mixing magic and modernity, the acclaimed Orson Scott Card has woven threads of history, religion, and myth together into a convincing, time-hopping tale that is part love story, part adventure."
--Amazon.com

"CARD IS A POWERFUL STORYTELLER."
--Los Angeles Times
Advertisement