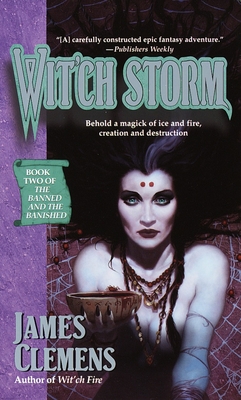 Wit'ch Storm: Book Two of the Banned and the Banished (Mass Market Paperbound)
Book Two of the Banned and the Banished
Del Rey Books, 9780345417084, 528pp.
Publication Date: May 2, 2000
* Individual store prices may vary.
or
Not Currently Available for Direct Purchase
Description
Elena bears the mark of the wit'ch upon her palm, the crimson stain that testifies to an awesome power of unimaginable potency: wild, seductive, difficult to control. Only a mistress of blood magick can stand against the foul minions and all-corrupting evil of the Dark Lord. But Elena is not yet the mistress of her magick. Protected by an ageless warrior and a band of renegades, she quests for a lost city where prophecies speak of a mystic tome that holds the key to the Dark Lord's defeat. But if the Dark Lord finds her first, Elena will become his most fearsome weapon . . .
About the Author
James Clemens was born in Chicago, Illinois, in 1961. With his three brothers and three sisters, he was raised in the Midwest and rural Canada. He attended the University of Missouri and graduated with a doctorate in veterinary medicine in 1985. The lure of ocean, sun, and new horizons eventually drew him to the West Coast, where he established his veterinary practice in Sacramento, California. He is also the author of Wit'ch Fire and the upcoming novel Wit'ch War.
Praise For Wit'ch Storm: Book Two of the Banned and the Banished…
"Wit'ch Fire grabs at your heart and tears a little hole, then tears another, and another - a brutal and beautiful ride. I can't put the book down!"
-R. A. SALVATORE

"I loved every page of this book . . . [Clemens's] imagery is so brilliant that every scene comes instantly to life, and while everything seems immediately familiar, the reader soon learns to expect a new surprise with every page. And just as you think he can't possibly come up with anything else, a new character bursts upon the tale, bringing along a whole new level of sorcery!"
-JOHN SAUL

"Full of violence, magical pyrotechnics, and black-hearted villains."
-Publishers Weekly
Advertisement