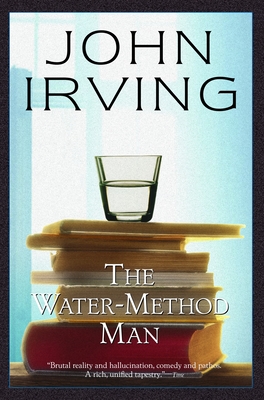 The Water-Method Man (Paperback)
Ballantine Books, 9780345418005, 288pp.
Publication Date: June 23, 1997
Other Editions of This Title:
Mass Market (6/13/1990)
* Individual store prices may vary.
Description
"John Irving, it is abundantly clear, is a true artist."—Los Angeles Times

Fred "Bogus" Trumper has troubles. A divorced, broke graduate student of Old Norse in 1970s New York, Trumper is a wayward knight-errant in the battle of the sexes and the pursuit of happiness: His ex-wife has moved in with his childhood best friend, his life is the subject of a tell-all movie, and his chronic urinary tract infection requires surgery. 

Trumper is determined to change. There's only one problem: it seems the harder he tries to alter his adolescent ways, the more he is drawn to repeating the mistakes of the past. . . .

Written when Irving was twenty-nine, Trumper's tale of woe is told with all the wit and humor that would become Irving's trademark.

"Three or four times as funny as most novels."—The New Yorker

Praise for The Water-Method Man

"Friendship, marriage, and family are his primary themes, but at that blundering level of life where mishap and folly—something close to joyful malice—perpetually intrude and distrupt, often fatally. Life, in [John] Irving's fiction, is always under siege. Harm and disarray are daily fare, as if the course of love could not run true. . . . Irving's multiple manner . . . his will to come at the world from different directions, is one of the outstandint traits of The World According to Garp, but this remarkable flair for . . . stories inside stories . . . isalready handled with mastery . . . and with a freedom almost wanton in The Water-Method Man [which is Garp's predecessor by six years]."—Terrence Des Pres

"Brutal reality and hallucination, comedy and pathos. A rich, unified tapestry."—Time

About the Author
John Irving has been nominated for a National Book Award three times—winning once, in 1980, for the novel The World According to Garp. In 1992, Mr. Irving was inducted into the National Wrestling Hall of Fame in Stillwater, Oklahoma. In 2000, he won the Oscar for Best Adapted Screenplay for The Cider House Rules—a film with seven Academy Award nominations.
Praise For The Water-Method Man…
"Three or four times as funny as most novels."—The New Yorker

"John Irving, it is abundantly clear, is a true artist. He is not afraid to take on great themes."—Los Angeles Times

"Friendship, marriage, and family are his primary themes, but at that blundering level of life where mishap and folly—something close to joyful malice—perpetually intrude and distrupt, often fatally. Life, in [John] Irving's fiction, is always under siege. Harm and disarray are daily fare, as if the course of love could not run true. . . . Irving's multiple manner . . . his will to come at the world from different directions, is one of the outstandint traits of The World According to Garp, but this remarkable flair for . . . stories inside stories . . . isalready handled with mastery . . . and with a freedom almost wanton in The Water-Method Man [which is Garp's predecessor by six years]."—Terrence Des Pres

"Brutal reality and hallucination, comedy and pathos. A rich, unified tapestry."—Time
or
Not Currently Available for Direct Purchase