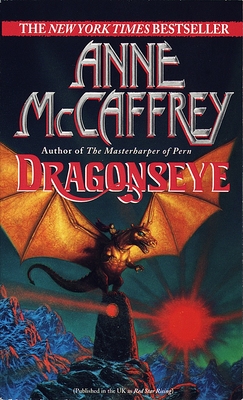 Dragonseye (Pern #14) (Mass Market)
Del Rey, 9780345418791, 416pp.
Publication Date: December 27, 1997
Other Editions of This Title:
Digital Audiobook (7/11/2007)
Digital Audiobook (7/11/2007)
Paperback (11/3/2019)
Paperback (4/1/2003)
Paperback (4/1/2003)
Paperback (4/1/2003)
Mass Market (3/31/2015)
Hardcover (5/17/2016)
Mass Market (2/24/2015)
Mass Market (4/28/2015)
Hardcover (5/17/2016)
Mass Market (5/12/1986)
Paperback (7/26/2005)
Prebound (10/1/1986)
Mass Market (8/13/1989)
Mass Market (10/13/1986)
Compact Disc (4/1/2013)
* Individual store prices may vary.
Description
In Anne McCaffrey's New York Times bestselling Dragonseye, join Weyrleaders, Holders, and Craftmasters in the creation of the legendary Star Stones and the teaching ballads of Pern!

It's been two hundred years since the deadly Thread fell like rain upon Pern, devouring everything in its path. No one alive remembers that first horrific onslaught and no one believes in its return—except for the dragonriders. For two centuries they have been practicing and training, passing down from generation to generation the formidable Threadfighting techniques.

Now the ominous signs are appearing: the violent winter storms and volcanic eruptions that are said to herald the approach of the Red Star and its lethal spawn. But one stubborn Lord Holder, Chalkin of Bitra, refuses to believe--and that disbelief could spell disaster. So as the dragonriders desperately train to face a terrifying enemy, they and the other Lord Holders must find a way to deal with Chalkin—before history repeats itself and unleashes its virulence on all of Pern. . . .
About the Author
Anne McCaffrey, one of the world's most popular authors, is best known for her Dragonriders of Pern® series. She was the first woman to win the two top prizes for science fiction writing, the Hugo and Nebula awards. She was also given the American Library Association's Margaret A. Edwards Award for Lifetime Literary Achievement in Young Adult Fiction, was inducted into the Science Fiction Hall of Fame, and was named a Science Fiction Writers of America Nebula Grand Master. Born in Cambridge, Massachusetts, in 1926, McCaffrey relocated to Ireland in the 1970s, where she lived in a house of her own design, named Dragonhold-Underhill. She died in 2011.