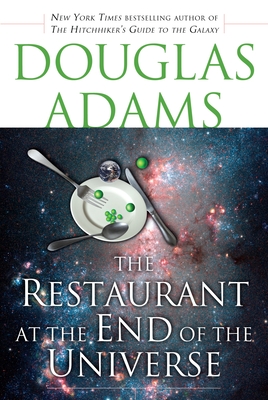 The Restaurant at the End of the Universe (Hitchhiker's Guide to the Galaxy #2) (Paperback)
Del Rey, 9780345418920, 256pp.
Publication Date: June 23, 1997
Other Editions of This Title:
Digital Audiobook (7/3/2006)
Mass Market (9/27/1995)
Prebound (9/1/1995)
Prebound (9/27/1995)
Mass Market Paperback (1/1/1990)
Hardcover (11/1/1982)
Compact Disc (7/4/2006)
Audio Cassette (1/1/1992)
Mass Market Paperback (10/1/1982)
Mass Market Paperback (8/1/1983)
* Individual store prices may vary.
Description
Facing annihilation at the hands of the warlike Vogons? Time for a cup of tea! Join the cosmically displaced Arthur Dent and his uncommon comrades in arms in their desperate search for a place to eat, as they hurtle across space powered by pure improbability.

Among Arthur's motley shipmates are Ford Prefect, a long-time friend and expert contributer to The Hitchhiker's Guide to the Galaxy; Zaphod Beeblebrox, the three-armed, two-headed ex-president of the galaxy; Tricia McMillan, a fellow Earth refugee who's gone native (her name is Trillian now); and Marvin, the moody android. Their destination? The ultimate hot spot for an evening of apocalyptic entertainment and fine dining, where the food speaks for itself (literally).

Will they make it? The answer: hard to say. But bear in mind that The Hitchhiker's Guide deleted the term "Future Perfect" from its pages, since it was discovered not to be!
About the Author
Douglas Adams was born in 1952 and educated at Cambridge. He was the author of five books in the Hitchhiker's Trilogy, including The Hitchhiker's Guide to the Galaxy; The Restaurant at the End of the Universe; Life, the Universe and Everything; So Long, and Thanks for All the Fish; and Mostly Harmless. His other works include Dirk Gently's Holistic Detective Agency; The Long Dark Tea-Time of the Soul; The Meaning of Liff and The Deeper Meaning of Liff (with John Lloyd); and Last Chance to See (with Mark Carwardine). His last book was the bestselling collection, The Salmon of Doubt, published posthumously in May 2002.
You can find more about Douglas Adam's life and works at douglasadams.com.
Praise For The Restaurant at the End of the Universe (Hitchhiker's Guide to the Galaxy #2)…
"Douglas Adams is a terrific satirist."—Washington Post Book World

"What's such fun is how amusing the galaxy looks through Adams's sardonically silly eyes."—Detroit Free Press

or
Not Currently Available for Direct Purchase